Salmon Fishing In The Yemen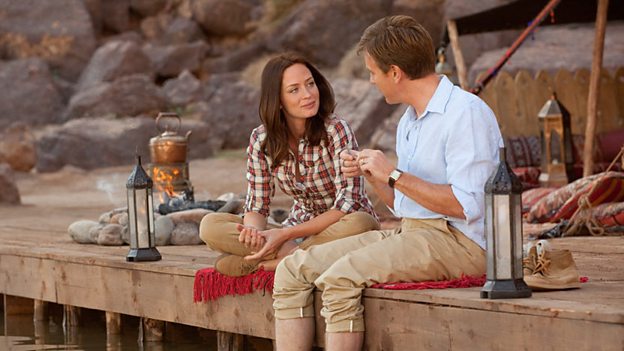 Ms Chetwode-Talbot, why on earth does your client want to do this in the first place? It's- it's plainly ridiculous. A folie grandeur. It's just not possible for salmon to live in this environment.
Dancer

Released 10 March 2017

A documentary on the extraordinary life of dancer Sergei Polunin.
Salmon Fishing In The Yemen Synopsis
Romantic fable SALMON FISHING IN THE YEMEN follows government scientist Dr. Alfred Jones as a fly fishing-obsessed Sheikh tasks him with the seemingly impossible - introducing salmon to the wadis of the Yemen. With the British government desperate for a good news story in the area, the Prime Minister's fearsome spokesperson, Patricia Maxwell seizes on the idea and makes Fred responsible for the success of the project. Finally won over by the charismatic Sheikh, Fred also begins to fall for his representative, Harriet. Casting off his deep-set cynicism, Fred rises to the Sheikh's eccentric challenge: to go on a journey of self discovery and late blooming love.
Based on the best-selling book Salmon Fishing in the Yemen by Paul Torday. 
Salmon Fishing in the Yemen was nominated for three Golden Globes in 2013: Best Picture: Comedy or Musical Best Actress: Comedy or Musical - Emily Blunt, Best Actor: Comedy or Musical - Ewan McGregor
Credits
Starring:
Ewan McGregor, Emily Blunt, Kristin Scott Thomas, Amr Waked, Rachael Stirling, Tom Mison
Executive Producers:
Jamie Laurenson, Paula Jalfron, Zygi Kamasa, Guy Avshalom, Stephen Garrett
Sales agent:
Distributor:
Credits summary:
BBC Films, Lionsgate UK and the UK Film Council present a Kudos Pictures Production in association with Davis Films Productions A Lasse Hallström Film
Release Dates
Out on DVD
3 September 2012
Related Links
Search BBC Films
Can't find what you need? Search here