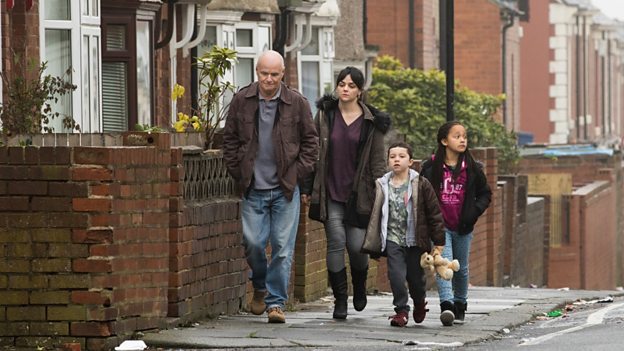 It's a monumental farce, isn't it? Looking for non-existent jobs and all it does is humiliate me.
There is nothing playing at the moment, please check again soon.
I, Daniel Blake Synopsis
Daniel Blake, 59, who has worked as a joiner most of his life in the North East of England needs help from the State for the first time ever following an illness.
He crosses paths with a single mother Katie and her two young children, Daisy and Dylan. Katie's only chance to escape a one roomed homeless hostel in London is to accept a flat some 300 miles away.
Daniel and Katie find themselves in no-man's land caught on the barbed wire of welfare bureaucracy now played out against the rhetoric of 'striver and skiver' in modern day Britain.
***
Winner of the Cannes 2016 top filmmaking prize, the Palme d'Or
***
Winner of 2 British Independent Film Awards 2016; Best Actor Dave Johns, and Most Promising Newcomer Hayley Squires. Nominated for 7: Best British Independent Film, Best Director, Best Screenplay, Best Actor & Most Promising Newcomer Dave Johns, Best Actress and Most Promising Newcomer Hayley Squires
***
Nominated for 4 European Film Awards 2016: European Film, European Director Ken Loach, European Screenwriter Paul Laverty, European Actor Dave Johns
***
Winner Outstanding British Film at the British Academy Film Awards 2017 (BAFTA). Also nominated for Best Film, Director Ken Loach, Supporting Actress Hayley Squires and Original Screenplay Paul Laverty
***
Winner of The Attenborough Award for British/Irish Film of the Year London Critics' Circle Film Awards
***
Fans should also check out the interactive documentary on BBC Taster "How To Make A Ken Loach Film"
Credits
Starring:
Dave Johns, Hayley Squires
Producers:
Rebecca O'Brien
Executive Producers:
Pascal Caucheteux, Grégoire Sorlat, Vincent Maraval
Sales agent:
Distributor:
Credits summary:
BBC Films and BFI present A Sixteen Films, Why Not Productions and Wild Bunch Production
Release Dates
Out on DVD
27 February 2017
Search BBC Films
Can't find what you need? Search here