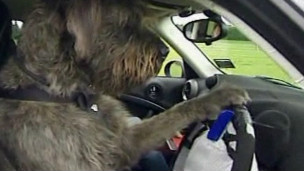 Un canidé au volant
12 décembre 2012 Dernière mise à jour à 12:25 GMT
Transcription
Meet Monty: a four-legged friend on four wheels.
No, it's not a shaggy dog story, this pooch really is driving the car, after being trained by a charity in New Zealand.
Six months ago he was abandoned by his owners. But the charity hopes that by showing how intelligent dogs can be, more people will adopt them, putting dogs like Monty back in the driving seat.
Vocabulaire
four-legged friend: an animal with four legs
shaggy dog story: a long joke with an intentionally silly ending
abandoned: left behind
adopt: to look after a child or animal as your own
in the driving seat: in control
Exercices
Use one of the words or phrases below to complete each of these sentences from news reports. Note that you may have to change the form of a word to complete the sentence correctly.
four-legged friends/shaggy dog story/abandoned/adopt/in the driving seat
1. Mr Morabito said more than 3,000 people had already applied to ________ a dog.
2. More employees should be "____________" and own a share of the company they work for, the deputy prime minister has said.
3. Still, with so much human suffering, it may seem like a stretch to ask people to help ____________.
4. An agreed sale of its Indian operations to HSBC ran out of time and is now being __________.
5. "This may seem like a ___________ but it has a serious purpose."
Réponses
1. Mr Morabito said more than 3,000 people had already applied to adopt a dog. Source: Italians bid to adopt beagles rescued in cruelty case http://bbc.in/O2DAsU
2. More employees should be "in the driving seat" and own a share of the company they work for, the deputy prime minister has said. Source: Nick Clegg seeks more employee ownership http://bbc.in/MSU7yS
3. Still, with so much human suffering, it may seem like a stretch to ask people to help four-legged friends. Source: Furry victims of the recession http://bbc.in/bZonmI
4. An agreed sale of its Indian operations to HSBC ran out of time and is now being abandoned Source: Blustery global trade winds http://bbc.in/RUuu5y
5. "This may seem like a shaggy dog story but it has a serious purpose." Source: Listening dogs help Staffordshire pupils read out aloud http://bbc.in/gss9VZ