BBC and IBM trainees join forces to solve tech challenge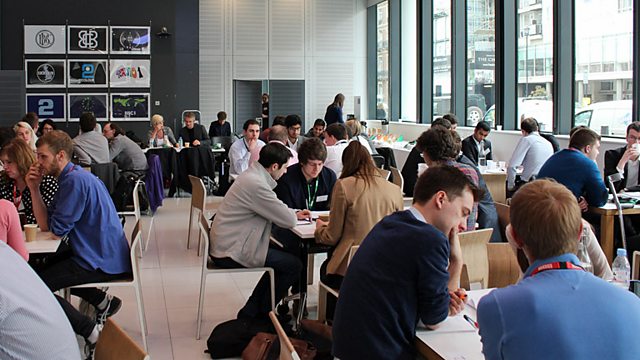 You might think that coming up with something as complex as a new way of delivering digital media files to the BBC Archive might take longer than a single afternoon. But on the evidence of the technology challenge for IBM and BBC trainees and apprentices produced by the Academy last week, it's enough time to make a very good start.
Hosted in BBC New Broadcasting House, the challenge revolved around the BBC Archive. It's one of the largest broadcast archives in the world and one made up from all kinds of media from sheet music to vinyl to video tapes. While programme makers have delivered many formats to it over the years, the onus now is firmly on digital production and digital files - which come with their own issues.
The amount of physical storage space may be less, but due to the quality of the programmes a vast amount of digital storage space is required. Then there's the question of metadata: when finding a file is no longer about locating a tape on the shelf, digital files need to be carefully labelled to ensure they get used and not consigned to oblivion.
These were just some of the factors the teams had to tangle with when they became Archive technologists for the afternoon. Their task: to design a system that would allow programme makers to deliver digital versions of programmes that could be both stored in the archive and accessible for broadcast.
"Making data sexy"
Help was at hand in the form of a range of related presentations that took place in the lead up to the challenge itself. They began with an introduction to the BBC for those from IBM, and vice versa.
With trainees from each organisation evenly distributed across the teams, the day represented a real chance to combine different ideas and come up with new and innovative ways of thinking about things, said IBM client director Siobhan O'Sullivan.
The BBC's Tiffany Hall emphasised that the results of these new ideas needed to be reliable and easy to use for the people who are going to be dealing with them every day – in this case, programme makers. Fiddling with compression rates may be fun for some, but for many it just needs to be reliable and easy to use. After all, "when you get in a car you don't want to worry about how it works - you just want to drive it."
Data and what to do with it was also a hot topic. IBM's Sam Seddon said his task for the day was to "make data sexy". Considering that he is working with something as popular as Wimbledon, this wasn't too tricky. He spoke about enhancing the tennis championship through technology, using everything from apps to social media to help it reach the widest audience possible.
Domesday discs
Andrew McParland from BBC R&D focuses on helping the BBC understand data. In his experience, once people see the benefits of utilising data they can't do without it – but they can need some persuading to enter it in the first place. One useful way of exploring it is Livestats – a live view of what people using BBC Online are looking at that was originally developed for BBC News.
Then it was time to talk archives. Steve Daly, head of technology for BBC Archive warned the teams that archive decisions are very important at the cutting edge of technology. A current format may become completely unreadable in only ten years if it either deteriorates or becomes obsolete and there are no devices around that can actually read it – as happened with the laser discs utilised in the 1980s BBC Domesday project which was contributed to by a million people around the country.
A more recent example of crowdsourcing was demonstrated by Mark Flashman from the BBC World Service, which has a prototype radio archive that is accessible by anyone. Users are invited to tag the archive in this experiment that aims to combine people power and computer algorithms to comprehensively categorise 45 years' worth of radio output.
Solving the problem
The trainees had plenty of information to work with, but less than two hours to arrive at their final ideas and only three minutes to pitch them to the panel of judges made up of members of the BBC Archive team and speakers from the day.
An ingenious array of solutions were presented, which took into account conflicts between easy access and successful storage, plus ideas around ID tags and global databases.
But there could only be one winning team: an ambitious pitch for something called 'The Predictive Gateway'. The judges praised its strong branding, the straightforward way it was described, the clever ideas involved and the way it made use of existing sources of data rather than reinventing the wheel.
There was also a special prize for two trainees who had been identified by Andy Wilson, BBC College of Technology, and IBM's Julie Adams as being the most collaborative team workers: a trip to Wimbledon 2014 to witness the BBC and Wimbledon/IBM partnership in play.
Will it change the way the Archive works? The winning team [pictured below] were invited to IBM in September for its annual graduate and apprentice conference to talk about how far they had progressed with their solution, so watch this space…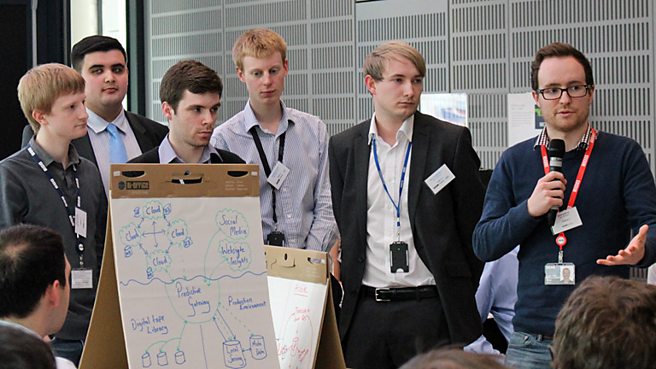 Elsewhere on the Web