Technology trainees and apprentices: advice from the experts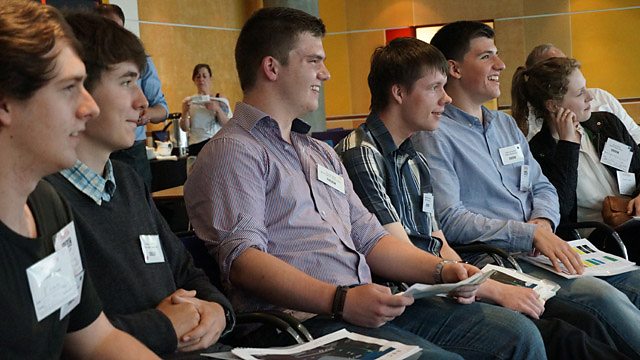 Nearly 30 trainees and apprentices attended an induction day at BBC Media Centre in London held to mark the launch of the new BBC Academy technology trainee scheme and apprenticeship.
The two innovative schemes are aimed at attracting the best new talent into the broadcasting industry. Both the apprenticeship and traineeship include a mixture of work placements, university courses and in-house training by the BBC Academy.
The schemes will run in parallel, one at bachelor level and one at postgraduate level. At the end of the two years successful technology trainees will leave with an MSc in Digital Broadcast Technology, while apprentices will complete a B Eng in Broadcast Engineering over three years.
The schemes are run in collaboration with a group of academic and broadcast industry partners: ITV, Channel 4, Red Bee Media, Arqiva and Salford and Birmingham City universities.
"We've been talking about how we can bring new blood and younger people into the organisation," said Peter Coles, BBC acting chief technology officer, in his welcome talk to the new trainees and apprentices. He said the new schemes were the culmination of that journey.
He started out as a trainee himself on a similar scheme and has no regrets. "I sat where you sat at the start of my career," he said. "I've had a fantastic career. It's a brilliant industry to work in."
Peter Coles had some advice for the new trainees. "Be agents for change," he said. "Be ambassadors for the BBC and the broadcast industry."
He also encouraged them to think big. "You can go anywhere, do anything. You can come in as an apprentice and rise to the top of these organisations. It's perfectly possible."
A panel of industry technology experts looked back at some of the most significant technological changes in the industry over recent years and revealed a few possible trends for the future.
BBC principal technologist Andy Quested said one of the challenges of his job was to make sure the BBC was pushing boundaries, because people expect technological excellence as well as editorial excellence from the BBC.
For ITV technology director Andy Tennant, among the recent challenges of moving to digital were how to do it cost effectively, embracing new workflows, and using metadata to find the content. There is also the issue of trust, with people who were used to physically holding onto their own tapes now having to upload content digitally.
According to Charles Mooney, head of technology at BBC Technology, the benefits of moving to digital have been incredible. He said it had also changed the job dramatically for those working in technology, from supporting new equipment to supporting new workflows.
This was echoed by Tennant. Producers can now go to a high street electrical shop and buy pieces of equipment for themselves, he said, so the emphasis is now less on supplying kit and more on helping make it work, which means it is important to keep on top of new trends in order to be able to help.
All three encouraged the new technology trainees and apprentices to network and build relationships outside technology with editors, journalists and producers who will give honest feedback on the technology challenges they face and what they are trying to achieve.
Getting the technology to work is the easiest bit, said Tennant. The hardest part is migrating users and getting them to use it properly.
Expert science and technology presenter Maggie Philbin visited to encourage the trainees and apprentices as they embarked on their new career. She said she had experienced a lot of generosity in the broadcast industry and that it is a place where teamwork is important.
"Someone will support you, it's what makes working in this industry so very special," she said.
She also encouraged the trainees and apprentices to let others know about this side of TV, so that teenagers would think of other roles in broadcasting than just getting in front of the camera and becoming famous.
BBC broadcast engineer Mike Richards introduced the apprentices and trainees to 'a day in the life in Tech Ops'. He has not regretted his choice of career for a moment and reckons people at the BBC are "really, really nice". "You get the chance to see stuff that a lot of other engineers don't get to see," he said.
Making mistakes is part of the job as well, though. "You're not a real engineer until you've taken stuff off air," he joked. "And I'm a real engineer"
The technology trainees and apprentices have all come from different backgrounds. Technology trainee Ruth Loughrey is changing career, having worked in finance for two years since graduation. It was the chance to get such a specific qualification and the opportunity to work in the industry and make contacts that made her choose the trainee scheme.
"Engineering is something I haven't really considered," she said. "I've got a physics degree. It'll definitely be a learning curve for me."