Mog McIntyre: getting started in radio
The experience of working on the Radio 2 Chris Evans Breakfast Show was daunting, but gave trainee Mog McIntyre great insight into reaching out to a massive audience. He recalls his experience and gives some tips for would-be radio trainees.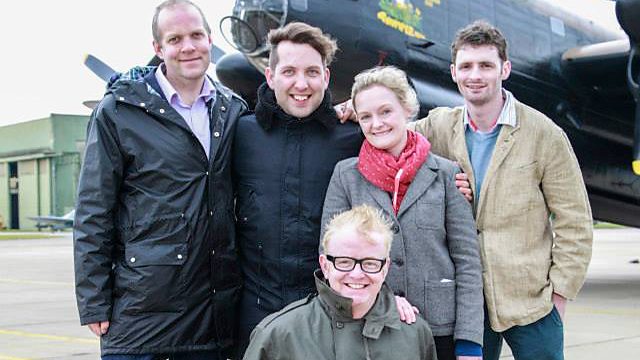 The Chris Evans Breakfast Show has a strong connection with its audience, and whatever programming you want to work in, understanding this is absolutely key. However, here you are not only broadcasting to them every day; you also become a public face for the show. During my time on the show, we had nine OBs (outside broadcasts) over the course of five months. Not having the security of a studio around you, these are the environments where pressure ramps up, with the possibility of anything happening at any moment. It's here I found myself having to direct the RAF into moving a 16-tonne Lancaster Bomber into place ready for the next item, as the planned programme was rapidly changing around us.
"Treat getting a job in the industry and networking a bit like dating. Get the right balance of confidence and humility, don't be too keen, and don't be a wallflower."

– Mog McIntyre
But these times also bring the biggest rewards; whether talking to veterans about the Dambusters raids, meeting 50 talented young writers and families at the Hay Festival and being recognised as my radio persona 'Mystic Mog'… Or the pinnacle of it all, being given the opportunity to produce a presenter on my own in the middle of a festival armed with nothing more than a golf buggy, research notes and a whole lot of charm to secure interviews! It's not often you spend your last day on a job dancing to The Feeling in the 'pit' in front of a festival stage, or even standing stage side facing a 20,000 strong crowd!
Opportunities at Radio 2 don't just stop at working with Chris Evans though - I was lucky enough to work with the entirely lovely Zoe Ball and broadcasting gent Ken Bruce, amongst others. The key is to volunteer for as much as you can, whilst still getting your job done. From doing so I got to produce Diane Louise-Jordan's tribute to Nelson Mandela, as well as assisting to produce Rhod Gilbert. This resulted in my being asked to come back to work at Radio 2 when Rhod comes back in the future. You never know when one small favour will pay dividends in the long run!
For anyone thinking this might be something they want to do in the future, my background did not start in the media. Whilst I was a marketing manager for an electrical retailer, I got to the natural stage when I needed a completely new challenge, and my advice to anyone who gets this feeling is to embrace it. Give it time to ensure it's not just a whim, but once you are sure do everything in your power and drive to make it happen.
My media journey started with producing hospital radio, then building a strong foundation of skills in radio with a MA in Radio Production at Bournemouth University. After this I filled my time with getting experience on a number of productions, building a reputation until I was lucky enough to produce a breakfast show with Phill Jupitus, and two series of a successful children's drama with FunKids. All were instrumental in building my confidence and reputation to getting here today. However the one thing that is essential is a passion for programming and an understanding of the industry and audiences.
My advice to anyone starting out is to treat getting a job in the industry and networking a bit like dating. Get the right balance of confidence and humility, don't be too keen to put people off, and don't be a wallflower who's easily forgotten. Striking the balance of when you contact people and the tone you use will ultimately be your success or downfall! Oh, and unlike me, don't set anyone alight by accident (whether that happened during a date or an interview, I will leave to you ponder..!)