Mog McIntyre: from fridges to festivals...
From a life in retail to the heady heights of Radio 2 - BBC production trainee Mog McIntyre tells us about learning to work under pressure with Chris Evans, and grabbing the opportunity to build his confidence as a broadcast professional.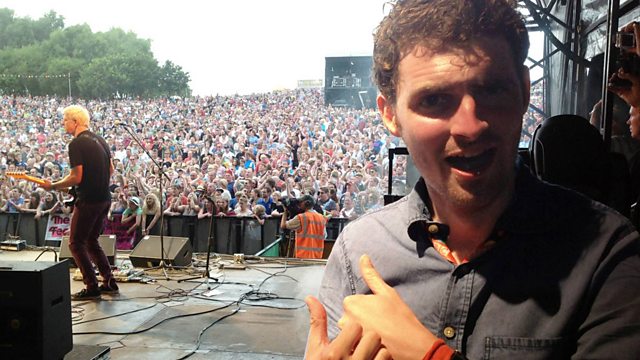 There are two principles I've tried to stick by in my life; 1) I am only as good as those I choose to surround myself with, and 2) Whatever you choose to do, you should put yourself in positions where you can continually build new stories - the moment you stop is time to move on to something new. Both statements have never held so true as my time working at Radio 2 on The Chris Evans Breakfast Show.
"Chris's show earns success from demanding the highest standards, and it's a healthy but continual challenge to make sure you reach that benchmark."

– Mog McIntyre
My early days of radio were inspired by Radio 1 roadshows, Mark & Lard, Zoe Ball and radio drama such as The Hitchhikers Guide to The Galaxy. So, despite having left the world of retail management behind and gaining some experience in brekkie broadcasting, the thought of working on Radio 2 was an intimidating one, especially as my knowledge of music is embarrassing and I am far from being the target audience. However the advantage of being on the BBC Production Trainee Scheme (PTS), is that you can expose yourself to new challenges - and boy does this show throw them at you in abundance.
This show offers a massive amount of opportunities; writing presenter scripts, preparing features, researching and finding guests, recording, editing, managing social media and interactivity for the show, working up pitches for new programmes, just to name a few. But the biggest opportunity working on Chris's show is finding out if you truly can work under pressure. All of those tasks may seem pretty easy and routine, but they are often far from it. (For example having to find someone who can go on air in 20 minutes to explain why strawberries are so sweet this year, at 7:45am, who is not only is talkative, but an accepted expert in his 'field', can really test your mettle).
Chris's show earns success from demanding the highest standards, and it's a healthy but continual challenge to make sure you reach that benchmark. However it's not continually a high-pressure environment and involves a lot of fun too. One moment I was recording Star Wars' C3P0 in the studio, the next developing the ability to perfectly prepare punchy pieces of script in the alliterative tone that is Chris's house style (yes, the thesaurus was my best friend for five months), as well as meeting a raft of starry guests. The point when Daniel Radcliffe applauded my writing on air and then shook my hand and said thanks after the show was a huge boost!
The reason it is one of the biggest shows in Europe is down to the people who work on it. As well as Chris, Vassos Alexander, Lynn Bowles and Moira Stuart are all amazing professionals and their energy is the lifeblood of the broadcast (and yes, Moira is truly as much of a legend in person, with the most mischievous sense of humour you'll ever find). However the true secrets lie with the people behind the glass. Headed up by "Mr Tickle", the breakfast team is truly one of the best in the BBC.
Words cannot describe how supportive, friendly and talented this group is, and it's this environment that breeds such a high level of creativity. I consider myself amongst the luckiest to work with them, as they are akin to a close family unit, each with a critical level of trust in each other which is paramount when you are working under a high-pressured live environment. There is no room for backbiting, jealousy or one-upmanship, and it's a lesson to be learnt for anyone else trying to get into the industry or even those already in it! Not only did I absorb a cataclysmic amount of insight from these people, this environment was perfect for moulding my confidence and finding myself as a broadcast professional. I leave this show, not with ex-colleagues but a bunch of new friends.
Elsewhere on the Web