Farah Jassat: The Muslim Premier League
BBC production trainee Farah Jassat writes about getting her first TV credit and having to learn about football whilst working on the documentary The Muslim Premier League for the BBC Religion and Ethics department.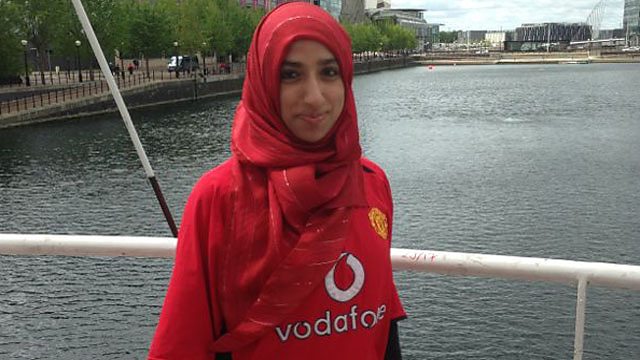 Seeing your first TV credit is pretty exciting. But I'm not sure if watching my first documentary this coming Sunday is more exciting for me or my family. I routinely have to explain that no, I won't be front of camera presenting a documentary for BBC One. That's not how it works I sigh. At least I can placate my dad with "you'll see my name in the credits" – something he's been asking for since I started the BBC's Production Trainee Scheme.
"Farah, what I want to know is when can I see your name on TV?"
"You can't dad. I work in radio at the moment…"
A few months ago I moved from BBC Radio 3's Night Waves to TV documentaries in the Religion and Ethics department. The bulk of my time here has been spent learning about football. Naturally. It might sound odd being in the Religion department, but that's what's been so great about the experience. This half hour documentary – The Muslim Premier League – takes a community I'm very familiar with and explores it from an angle I was woefully ignorant about.
"Seeing your first TV credit is pretty exciting. But I'm not sure if watching my first documentary this coming Sunday is more exciting for me or my family."

– Farah Jassat
Twenty years ago there were no Muslims in the Premier League. Now there are nearly forty - enough for three football teams. To mark the start of Ramadan, this programme, narrated by Colin Murray, speaks to star players and top managers to find out what impact Muslims are having on the English game. It asks how a profession, with a reputation for nightclub brawls, boozing and excess, deals with teetotal players who value prayer and fasting. And it finds out what the fans think. One of my personal favourite stories was finding out what inspired forty thousand Newcastle United supporters to start singing about Ramadan!
As a researcher on the programme my days have been split between researching in the office and being out on shoots. From trying to source contributors and speak to clubs to interviewing the players and booming sound, I was stuck in from the start. It was a great experience to help film on location and learn how to deal with unexpected problems which can arise. Mind you, rocking up to footballers mansions wasn't bad either.
One of the best experiences was when we filmed in the style of an observational documentary. We were following the fate of Wigan Athletic goalkeeper Ali al Habsi on the day of the FA Cup Final. Joining a coachload of his family and friends from Ali's house down to Wembley on the day was eventful to say the least. It was a burst of Omani flags, drumming, and Arabic chants. The atmosphere of the group could be drawn on a graph. It started off buzzing, dipped to a lamentable low, and then made an emotional recovery. You're going to have to watch the programme to see what I mean (and try not to switch off before the credits!).
On a more personal note, it's been a private challenge for me to get my head around the world that is football. The words football and Farah put together still make my friends splutter with laughter. But, I'm proud that I not only learnt but genuinely became interested in a defining cultural movement of our age. I even got into footy outside of work hours by going to my first game - Manchester United versus Real Madrid Legends played at Old Trafford.
I've really enjoyed the opportunities presented to me in Religion and that's the great thing about the Production Trainee Scheme. It's all about opportunity. If you grab it, who knows what you will find.