Art director Verity Scott: a typical day
Verity Scott, a freelance art director and props buyer, describes a typical day and the skills her work requires.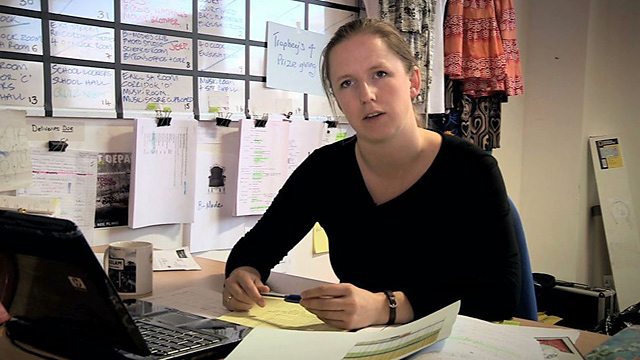 I am a freelance art director and props buyer and I have worked in both capacities for the BBC but more recently I have been working as props buyer on the BAFTA winning CBBC drama called The 4'O Clock Club. The skills that you require to work in the art department are transferable, hence I am employable in both roles. I trained as a theatre designer with drafting and computer graphics skills but basically I am a practical person with an eye for colour and unity.
With every production there is a budget and schedule and the sets need to be dressed and the props need to be found, so as a props buyer my role is to make sure that these elements are sourced in line with the production designer's requirements and that the budget is kept on track. The art department is a very collaborative team and it's a joint effort to make sure that you are able to deliver the sets on time, so each person's role is just as important as the next. Sometimes you will have months to prepare and other times it may be just days and weeks.
Every day has its challenges and no one day is the same, so you have to be prepared for the daily encounters that may occur. In the UK 60% of my day is spent driving around in my car to prop houses, high street shops and wholesale suppliers and I usually return to location with bundles of shopping bags. For those larger items of furniture, the prop van is required, and I have been known to drive one or two of those in my time too.
The key skill that you require to be a prop buyer is organisation, as you will often be working alone while you are out and about during the day. You also need to a bit of a wheeler-dealer as you still have a budget to stick to and often this can be thousands of pounds. You have to acquire good knowledge of where to source items but my sat-nav and smartphone are always to hand as the car becomes my office during the day. It is also important to have communication with the production designer and art director as designs can often change very quickly and you need to keep up to speed with the production.
Contrary to popular belief it's not all glamour and parties working in the television industry. On average I will work twelve hours a day and if you are working with the crew on set, a shooting day is usually ten hours with a lunch break. The days are often stressful and schedules can change at the last minute, so often when you think you have tackled one hurdle another one is right in front of you. Admittedly this is not a job for everyone but I wouldn't want to work in any other department. The reward of seeing your work broadcast or the privilege of being nominated and winning awards somehow makes all the hard work seem like a dream.