Women in Radio Salford: a delegate's eye view
Alice Strang, senior curator at the National Galleries of Scotland (pictured far right), talks hairdos, headphones and how to take a toilet break while hosting a live radio show in her blog about our second Women in Radio event held on 5 March 2014.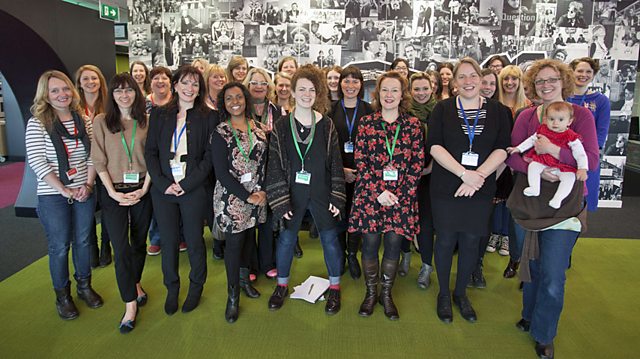 What do you get if you gather together a group of chatty women, teach them interview techniques, let them loose in a radio studio and allow them to speed-date five members of BBC staff?
I recently found out when I became one of 30 successful applicants to take part in the second of three BBC Women in Radio events at MediaCityUK in Salford.
As a senior curator at a national gallery my radio goal - and challenge - is to spread my passion for the visual arts through a non-visual medium. Thanks to the help of the BBC Academy College of Journalism, I feel much better equipped to achieve this.
A friendly tone was set was from the start of the day. There was a warm welcome, and thanks to an entertaining video we also learnt how to 'do a Sam Walker' (now a Radio BBC 5 Live presenter) i.e. nip to the loo during the two minutes of a news bulletin read by someone else. It's pretty much the only time you can go when you're hosting a talk-only show.
Needless to say all this accelerated the already blossoming bonding between the delegates, who ranged in age from late teens to mid-50s with backgrounds as diverse as pharmacist and jazz musician to freelance local radio presenter stand-ins and radio production assistants. One delegate brought along her baby, who gurgled at all the right moments.
Rachel Burden of BBC Radio 5 Live and Emma Britton of BBC Somerset then told us about their contrasting career paths. Rachel started out in local radio after finishing her journalism studies, thinking that it would be the best place to really learn the ropes. Emma had been working as fitness instructor and got her break in radio when she was invited back after an on-air interview to do a regular slot: Extra Large Emma's Fat and Fit weekly feature.
Both stressed that radio is all about the listener and not about the presenter. When questioned how they achieve a life/work balance Rachel described juggling breast-feeding with covering the Liberal Democrats conference and Emma confessed to paying her mother to do her housework.
We were then divided up into groups and embarked on three different activities. My group began with interviewing techniques. Before I knew it, I was crying with laughter listening to a disastrous radio interview with a seven year old boy, who simply answered 'yes' to all the questions posed.
Laughter turned to nerves when we had to conduct an interview ourselves, be observed while doing it and receive constructive criticism afterwards. I was just about to ask my interviewee how she came out as lesbian as the four minutes permitted came to an end. Lesson learnt: don't skirt around the issue, dive straight in there and ask the questions your listeners want to hear the answers to.
After a reviving cup of tea, we were given ten minutes to pick a news story to discuss in a group review of the papers. We were then led into a radio studio and an awed hush descended.
We swiftly learnt that headphones are not compatible with fancy hairdos, nor are jangly ear-rings. And who knew how dry the human mouth is capable of becoming during a silent ten second countdown until the 'live on air' light comes on?
But in an instant we were away, skilfully guided by BBC Nottingham presenter Francis Finn. We discussed a potential tax on sugar, why Britons don't like to eat cat and dog, and the fact that we choose to smuggle bacon and baked beans - of all things - when we travel abroad.
A networking lunch allowed us to catch our breath, refuel and informally meet all sorts of people from the world of BBC Radio, in the magnificent surroundings of MediaCityUK.
Next came the opportunity for true romance, in the form of 'speed-dating' with five BBC experts including two presenters and a managing editor. It was amazing to have direct access to these people, who quickly turned my approach to the day on its head by advising me to present myself as an art expert rather than a wannabe general presenter.
Another cup of tea, this time accompanied by a much appreciated chocolate biscuit, led to the final part of the day, a question and answer session with none other than Helen Boaden, director of BBC Radio and David Holdsworth, controller of BBC English Regions.
They impressed on us the BBC's commitment to increasing women's contributions to BBC radio and proved that commitment by sending us home with a goodie bag, containing among other things a personal letter from David introducing us to the editor of our local radio station and saying they awaited our call to arrange a meeting. We also received a recording of our studio slot so we could do some all-important listening back to ourselves.
On the train home I mulled over this fantastic day, which was nerve-wracking and exhilarating in equal measure. The 30 of us have been given the best possible opportunity to contribute to BBC Local Radio. Perhaps my dream of spreading my passion for art is now achievable, but before I could work out quite how, I was sleeping like a baby.