Apply for Women in Radio: Birmingham
Please note: applications for this event have now closed.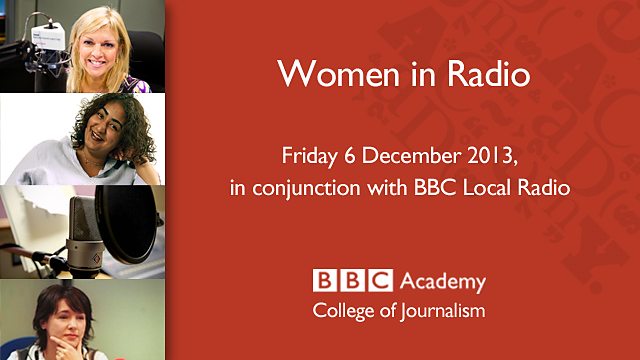 Would you like to be part of the next generation of radio presenters? The BBC Academy's College of Journalism, in conjunction with BBC Local Radio, is holding a series of awareness days for women who are interested in presenting on BBC local radio in England.
Do you enjoy meeting and talking to people from different walks of life?
Are you interested in what's going on in the world around you?
Have you got something to say about where you live?
We are interested in hearing from women of all ages and backgrounds who believe they could become part of BBC Local Radio's future presentation teams.
If you would like to be considered to attend the Midlands pilot event, and you can be at BBC Birmingham at The Mailbox in Birmingham on Friday 6 December 2013, then we want to hear from you. (We will be running events in Salford in February and London in March.)
The aim of this event is to help boost the number of women presenting on BBC Radio.
About BBC Local Radio
BBC Local Radio is a network of 39 radio stations that collectively broadcasts to more than seven million people a week across England and the Channel Islands.
The service is built around providing local news, sport and useful information, interesting conversation and debate, and great company.
Content is brought to life by presenters who live in and love their local area. BBC Local Radio is the part of the BBC that's closest to its audience.
The BBC Local Radio audience
The BBC Local Radio network provides news, information, entertaining conversation and companionship for anyone living in a local area, but has a special responsibility towards older listeners. Audience members are typically in their 50s, but there are many older and some younger listeners too.
About a quarter of the audience listens to almost no other radio, so it is important to provide a comprehensive news service as well as the local agenda. Music plays an important role in the schedule, but peak times like breakfast are speech-only.
The service aims to be distinct from other BBC radio stations and notably to appeal to listeners who like to know what's going on but may not listen to BBC Radio 4 or BBC 5 live.
What we are looking for
We're looking for people who have the potential to become local radio presenters of the future, and we recognise that currently we need more women to join the BBC Local Radio teams.
BBC Local Radio's best presenters are inquisitive and articulate; they listen as well as they talk. They are generally interested in people, have open minds and often have a great sense of humour. Great presenters understand the power of radio and always put the needs and interests of the audience before their own.
How to apply
You will need to send us:
A copy of your CV (label your file 'First name Surname CV')
A two-minute recorded piece of audio telling us 'what it's like to live where you do' (label your file 'First name Surname Audio')
A 200-word programme idea for the mid-morning show on your BBC Local Radio station. You'll need to explain why you've chosen the subject, who you'd like to interview and why and what you hope the listeners would get out of it (label your file 'First name Surname Idea').
Email them to womeninradioevent@bbc.co.uk.
Recording your audio
Start your recording with your name and the location where you're recording it
Don't worry about producing something that's super-slick - we're not evaluating your technical skills. The most important thing is that we can hear you clearly
Sound natural - think that you're chatting to a friend at home or over lunch
Remember you have a maximum of two minutes; we are unable to listen to audio that is longer than two minutes.
In order to apply you must be:
A woman
Aged 18 or over
Live in the UK or Channel Islands
Not earning your main living as a paid presenter on any UK radio station.
Some spaces (around a third) are being reserved for those people who may work for the BBC but in a non-broadcast capacity. If you do, you'll need to state this in your application.
Closing date
The closing date for applications is 23:59 on Sunday 27 October. Please only apply if you are able to be at BBC Birmingham, The Mailbox, Birmingham B1 1RF on Friday 6 December 2013.
Application checklist
,Please send an email containing your full name, email address and phone number, and attach your:
'Voice test'
Programme idea
CV.
All to be emailed to womeninradioevent@bbc.co.uk.
NOTES
If you are already employed by the BBC (either on a continuing, casual or freelance basis) please state your contractual status, staff number (if relevant) and department.
How we will choose delegates for this event
A panel of experts from BBC Local Radio and the BBC Academy will listen to all the material submitted and select up to 30 delegates, plus some for a waiting list, based on the following:
Voice test: your presentation style, tone and pace; how 'listenable' and 'engaging' your delivery is
Programme idea: how strong and interesting your story idea is, the relevance to the audience, and how creative you've been in your thinking.
We'll also be taking into account how closely you've followed the brief.
We will judge the voice test first, before considering your programme idea.
The judges' decision will be final and we will not be able to give you individual feedback or enter into any correspondence. The offer of a place at an event does not guarantee any future employment with the BBC.
Privacy policy
Your information will be collected by the BBC for the purposes of entering you into the Women in Radio event. We will store your information for 12 months, after which it will be securely deleted from our systems. We will not share your information with any third party; however if you are shortlisted we may share your information with Local Radio editors within the BBC. Please see the BBC's privacy policy.
PLEASE SEE THE BBC'S FULL PRIVACY POLICY FOR FURTHER INFORMATION.