TV Fast Train: podcasts
TV Fast Train was a day of free broadcasting training run by the BBC Academy for freelancers working in the television industry. You can catch up on the highlights through this series of podcasts of the masterclasses recorded by the BBC Academy's College of Production.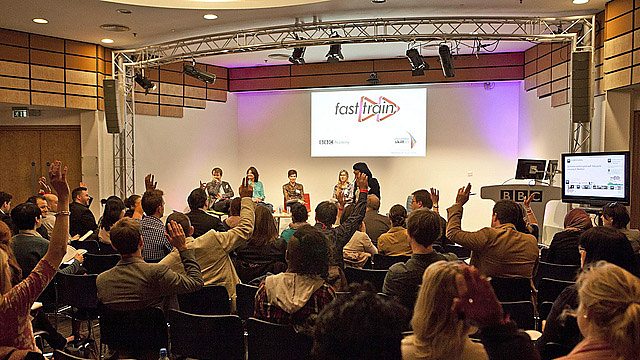 Fast Train is a series of free training days run by the BBC Academy for freelancers working in broadcasting. The events offer a wide range of masterclasses and practical workshops covering key skills and knowledge for getting on in the industry.
TV Fast Train was held in London in May 2012 and the BBC Academy College of Production recorded podcasts of a selection of the masterclasses, which you can listen to by following the links below.
One of the highlights of the day was the chance to meet three BBC controllers. After being asked to characterise their channel as a type of meal, BBC One's Danny Cohen, BBC Three's Zai Bennett and BBC Daytime's Liam Keelan talked about their roles, commissioning and the decisions they've taken in Meet the Controllers.
A hot topic in the industry at the moment is Women in TV and Lisa Campbell hosted a discussion with those who commission, produce and present about why women are not adequately represented on the screen and what can be done about it.
TV has become more interactive and audiences can choose from a range of devices to view on. These are just two of the recent changes in broadcast technology. A panel of experts, including science and technology presenter Maggie Philbin, peered into their crystal balls and tried to predict future developments over the next three to five years in The Future of TV.
A hot topic in the industry at the moment is women in TV
No matter what your job title is social media can play a big part in selling yourself, your skills or your production. Sara Brailsford's session on Using Social Media to Grow Your Brand explained how to use social media to inform content, increase reach, interact with viewers and build audience loyalty.
A series of sessions focused on aspects of different television genres. In Learn from the Drama Greats the expert panel of experienced programme makers talked about what it takes to get a career in drama and how to spot a winning programme, while a parallel session on comedy, Learn from the Comedy Greats , talked about making it in comedy and the secrets of long term creativity.
Finding the next, ground-breaking TV features show is the ultimate prize for many in the industry, but how much do you want to innovate and how do you take into account new technologies and audience trends? Formats and Features asked whether formats still relevant and how you pick a winning one.
Focusing particularly on the format show in comedy, Never Mind the Panel Shows unlocks the panel format and discussed the secret of the longevity of such shows as Have I Got News For You and Never Mind the Buzzcocks.
Factual and drama share a common foundation in good storytelling and a panel of experienced programme makers explained how they had moved from one genre to the other in From Factual to Drama.