Fast Train North: reports
Fast Train North was a day of free masterclasses and practical workshops in broadcasting skills run by the BBC Academy at MediaCityUK in Salford for freelancers working in television or radio. This series of reports brings together some of the highlights of the day's sessions.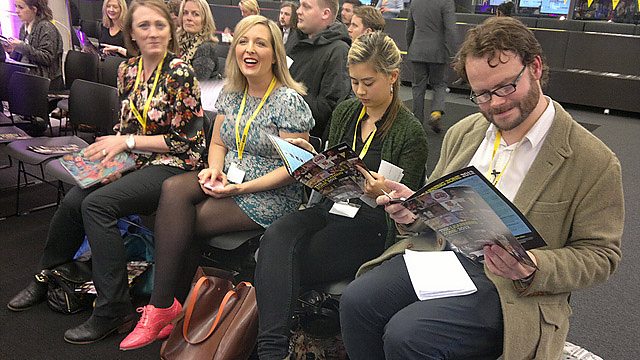 Fast Train is a series of free training days run by the BBC Academy for freelancers working in broadcasting. The events offer a wide range of masterclasses and practical workshops covering key skills and knowledge for getting on in the industry.
Fast Train North took place at MediaCityUK in Salford on 20 November 2013 and a series of articles by the BBC Academy and its College of Production bring together the highlights from some of the day's sessions.
BBC executive producer Gill Tierney focused on the holy grail of the factual and entertainment producer, the returnable format, in Where's the Next Big One: Features and Formats, which is recorded as both an article and a podcast. According to Gill, "If you can't tell someone in one line what your concept is, don't even make a start."
The idea of having full control over the destinies of the characters on Coronation Street or EastEnders may a soap fan's dream, but what is life really like for the people who create the storylines for some of the UK's biggest soaps, and what does it take to get such a coveted role? Kate Oates from ITV's Coronation Street had the answer to that in Storylining and Creating New Characters.
"If you can't tell someone in one line what your concept is, don't even make a start."
A practical session on Behaviour Driven Development offered attendees the chance to access and understand cutting edge software development and to think about what users actually want, while in Getting Smarter with Smartphones College of Journalism trainer Marc Settle unlocked the secrets of recording on smartphones, with tips and techniques for using the smartphone to record, edit and send video, as well as how to use it to broadcast live.
With smartphones, tablets and social media playing an increased role in television, producers have got to plan for multiplatform as a matter of course and Understanding Online Content Production looked at how to go about planning online content.
Planning was also the theme of Shooting for the Edit. The edit can only be successful if you get the right shots to begin with and you don't want to be working through hours of footage to find them, so Ian Hider demonstrated how to film rushes that will enable successful storytelling in this practical session.
John Ryan, director of radio indie 2ZY and former Managing Editor of BBC Radio Manchester brought the wisdom of his experience in Five Rules of Radio Presentation and BAFTA-winning researcher, writer and producer Susan Walls' ran through a wealth of practical tips that all researchers need to be aware of, including copyright, release forms and site planning in Lifesaving Tips for Researchers.