Expert Women's Day Northern Ireland: learning to go live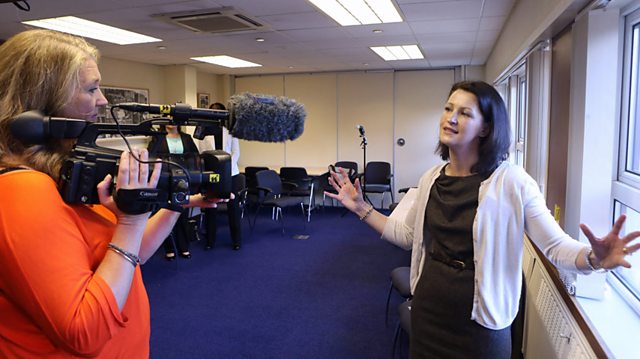 Expert Women's Day Northern Ireland brought together 24 female experts to BBC Northern Ireland's headquarters in Belfast for a day-long introduction to the media.
Selected via a rigorous application process, the expert women included specialists in everything from mental health to mathematics. They took part in a day that provided hands on experience of studio interviews and pieces to camera as well as a chance to network with senior industry figures.
Speakers on the day included BBC Academy director Anne Morrison, Susan Lovell, head of TV commissioning at BBC NI, and BBC News presenter Maxine Mawhinney. Their advice ranged from having the confidence to say yes to an interview that necessitates speaking more broadly on a subject area than you might usually, to being "slightly larger than life" on screen to avoid being "diminished" by the flattening effect of the camera.
With plenty of insight on offer, we caught up with three attendees to find out the key things they now know about making it in the media.
Dr Elaine Farrell, lecturer in Irish Economic and Social History
What was the most important thing you learnt from the event?
It's difficult to pinpoint the most important piece of information, the most valuable tip, or the most useful piece of advice that I received. By 9:30 I had learnt that many women feel like imposters, regardless of job or stage in career. By 11:30 I had learnt to eyeball the television presenter regardless of any distractions. By 13:30 I had learnt that people are interested in my research on nineteenth-century criminal women.
By 14:30, I had learnt that radio can be so relaxing that it's easy to forget that there's an audience. By 16:30, I had learnt (the hard way) that it's always a good idea to touch up make-up before appearing on camera! By 17:30, I had come to the conclusion that it's really not advisable to schedule a television interview, a radio debate and a walk-and-talk recording session for the same day. Unless you're very in demand…
And the most surprising?
That it is pretty challenging to simultaneously walk (without stumbling), talk (without stumbling) and stare down the lens of a camera while being engaging and informative take after take after take.
What would you say to other female experts who are considering going on air?
You can only improve with experience so it's better to start now than later!
Dr Niamh Shaw, performer, scientist and engineer
What was the most important thing you learnt from the event?
How much broadcasters value our contributions to their programming, and that we are encouraged to make contact with them and even pitch new ideas for new series or documentary content. I also learnt to be my authentic self, to relax and treat every interview as a simple conversation where you get to talk about your favourite subject.
And the most surprising?
In science, we tend to be objective about the research and tend to discuss results or new research with that focus. After the day I now realise that having opinions or viewpoints on this research may be even more valuable in programming than simply explaining the research.
What would you say to other female experts who are considering going on air?
Do it! You are the experts and you are a very valued asset in media. Don't be intimated by radio or TV studios, just be yourself and if you bring your passion and expertise to any interview, you will be amazing.
Jane Larmour, architect and architectural historian
What was the most important thing you learnt from the event?
Once I realized the tone was conversational and that it was just about having a discussion about my subject with the interviewer (it just happened that there were bright lights, cameras and mics) I was able to relax and realised I would really enjoy doing this.
And the most surprising?
I was really surprised at how little time you have to get your point across, how critical it is to get the most interesting information out as quickly as possible rather than building up to it. There simply isn't time as everything is so fast paced.
What would you say to other female experts who are considering going on air?
I would recommend it without hesitation – you'll know if you're comfortable with it after the paces that Expert Women's Day puts you through! I applied because I feel like my subject is under-represented in the media, and attending the day has put me in a position where I can do something about it.
Find out more about the Expert Women from Northern Ireland on our YouTube channel. If you work in the industry and would like a copy of the database, email expertwomen@bbc.co.uk.