Expert Women's Day Scotland: how to make an impact on air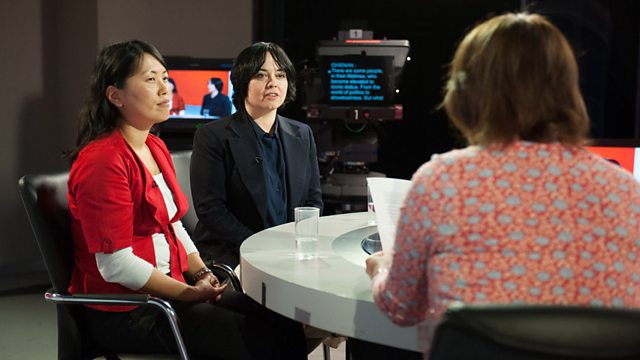 More than 20 female experts headed to BBC Scotland's headquarters at Pacific Quay in Glasgow for the latest BBC Expert Women event.
The day aimed to familiarise the experts, who were selected from hundreds of applications, with the media. They got the chance to take part in a radio round table interview, deliver a piece to camera and be interviewed in the studio used for daily news show Reporting Scotland.
They also heard from and met industry figures including BBC Scotland head of radio Jeff Zycinski, newsreader Jackie Bird and John Boothman, head of News and Current Affairs at BBC Scotland. These guests all shared their insights into making it in the industry, covering everything from pitching programme ideas to what to wear on set.
We collected some of their best advice for expert women – or anyone who wants to know what to watch for when appearing on air – below:
Enthuse and inform
Our industry experts agreed that a perceivable passion for their subject is what will single out an expert as a potential contributor.
"Unless we're working with really passionate experts we're nothing," said Natalie Humphreys, controller, factual production, BBC TV.
BBC Scotland newsreader Jackie Bird added that "presence, intelligence, charisma and enthusiasm" all made for the perfect media appearance.
Forget peer pressure
A common concern among expert women is how to go from the often incredibly specialist world of academia to the broader brush strokes demanded in broadcasting. The difference in communication is a big one – they need to go from impressing their peers with their knowledge to being understood by a much wider audience.
"Don't worry what your peers will think of you when you appear as a contributor," recommended Natalie Humphreys. "Think whether your sister or your next door neighbour will understand what you're saying."
Context is king
If you're asked to appear on air, get as much context about the appearance as you can. If you don't know the programme, find out more about it. What you're on will determine what you say, how you say it, and how long your appearance will be – an appearance on TV news will likely last less than 30 seconds.
Give examples, tell stories, and if you're asked a question, make sure you actually answer it: viewers or listeners will want to know what the answer is and will be disappointed if you don't give one.
Trust your team
When it comes to writing articles for publication in journals, experts are in full control of the facts and figures. If they start presenting programmes, their degree of control over what is covered reduces. They need to learn to trust the production team around them to make a show that will stay true to the facts but also reach a wide audience.
Science and history presenter Hermione Cockburn says it took her time to start trusting the production teams on shows she worked on – her fear was that she would say something wrong and be exposed to her peers.
"You have to let go of your academic tendency to control everything and learn to trust people," she advised. "Tell yourself there's going to be an element of this you're going to run with – you won't be able to cover it all."
Value your voice
Radio has a voracious appetite for new contributors, and as such is a great place to appear as an expert. If the only thing that's holding you back is the sound of your own voice, then the recommendation is to just go on and take the plunge.
"You hear from everyone on radio that they don't like the sound of their own voice," said Jeff Zycinski, head of radio at BBC Scotland. His advice? "You just have to get over it."
What not to wear
A degree of smartness clothing-wise can pay off when you appear on TV, but don't go too over the top. "Dress as yourself and be comfortable," said Natalie Humphreys. "We've all seen people on TV who look like they're wearing something they wouldn't normally."
Other tips include not wearing any particularly jangly jewellery – it won't endear you to whoever is doing the sound on the show - and bringing a spare top in case what you're wearing clashes with the studio.
In the end however, as Jackie Bird put it, "What you've got to say and how you say it are of far greater importance than how you look."
Image: Juliebee