Digitising the BBC archive
Sarah Hayes, Eve Anderson, Adrian Williams and Deon Cotgrove on digitising the BBC archive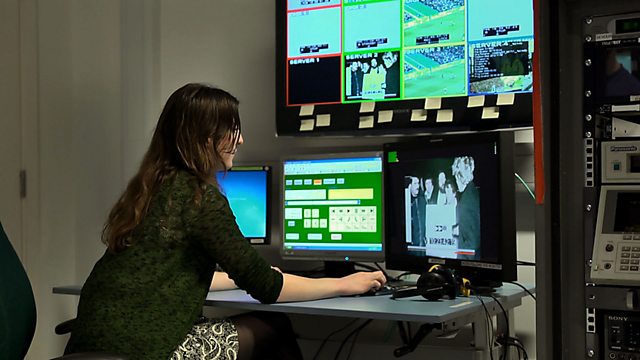 Contains flashing images
Whether you're seeking newsreels of the Queen's coronation, a classic episode of Fawlty Towers or your dad's favourite band on The Old Grey Whistle Test, the BBC archive holds all this footage and much more.
But with 60 miles worth of shelving already filled, storing old BBC programmes on bulky, easily damaged tapes is no longer a sustainable method of preserving content. In 1998, after then-Director General John Birt took one look at the archives and asked "What would happen if there was a fire in here?", the process to digitise the BBC archives was begun.
In this film Deon Cotgrove, operational manager of the BBC's archive centre in Perivale, takes us through the mammoth on-going task of 'ingesting' 4.5 million items of BBC content into digital format. With recordings dating back as far as the 1800s, it was clear from the outset of the project that a painstaking approach was needed to stop programmes being lost forever.
As Adrian Williams, digitisation manager at Perivale, describes, one of the biggest challenges was preserving content recorded on nearly-obsolete D3 tapes. D3s are particularly vulnerable to damage – even more so than older formats such as pre-20th Century wax cylinders - so digitising as many of these 340,000 tapes as possible was a priority.
The video looks at the process of converting and backing up archive content, and the various QC checks involved to ensure flaws from old tapes aren't 'baked in' to their digital version. Eve Anderson, digitisation operator and one of the 'special pairs of eyes' performing QC checks, outlines the process and difficulties involved in converting old, easily damaged tapes into polished digital files.
"When you're converting tapes, you're aware that this might be their last chance"

- Eve Anderson
As Sarah Hayes, controller for information and archive digitising, says, making the BBC archive future-proof isn't just crucial for preserving a century's worth of BBC content, but will also help to meet increasing audience on-demand expectations. The growing number of viewers who want to watch archive content on iPlayer is therefore another motivation for digitising the BBC's archive.