Robotic camera systems
An overview of the robotic camera systems being used in BBC studios, including camera components and operator safety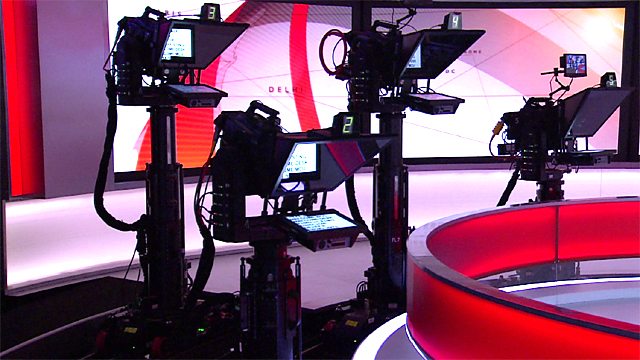 The robotic camera systems in BBC's New Broadcasting House are used in the news room, the studios and the virtual reality studios. They're ideal for productions where the same smooth shot or movement needs to be repeated daily or hourly within the same programme.
Although called robotic camera systems, they're actually just ordinary broadcast cameras fixed to robotic heads and pedestals. The system remotely controls the pan, tilt, zoom, focus and movement of the camera.
The BBC uses two types of pedestal: Furios, which are fixed to a dolly and run on tracks, limiting their movement to side-to-side, and Shotokus, which are mounted on three wheels and can move freely across the floor. They can either be pre-programmed or controlled directly by a person.
The operator uses a control unit – either from the studio or the gallery. It sends commands to a computer, which in turn sends the commands to the units on the studio floor. Each robotic head is given its own IP address that the computer communicates with.
"Without robotic cameras, we wouldn't get the distinctive sweeps and fast moves we've come to expect during the news"
Staff working with the robotic cameras have to go on courses before working on or near them. Plus, there are built-in safety procedures in use during operation.
Both systems need to be checked daily. With Shotokus, the air pressure in the pedestal needs to be measured to make sure the height is stable. The pan and tilt brakes must be off to allow free movement before use. Engineers need to lubricate the steering chain and replace the batteries regularly. The tracks of the Furio cameras need to be examined every day for obstructions.