Ed Davies: producer/director
Ed Davies is a self-shooting producer/director currently based in Brazil. He's made programmes for all the leading UK broadcasters and has worked with household names like Stephen Fry and Wallace & Gromit. He also devised the original ideas behind the series Totally Boyband for MTV and Dom Joly's The Complainers for Channel 5.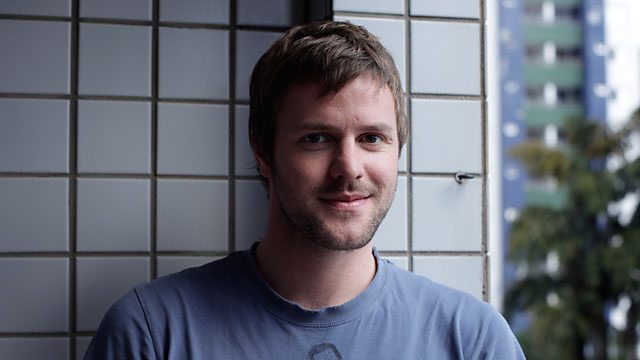 What was your first job in the media and how did you get it?
My first paid job was as a runner on an Endemol series called The 24 Hour Quiz. I got the job because a friend who I'd met doing unpaid work experience put me forward.
How long did it take you from there to where you are today?
It only took me four years from there to directing but that's because I came up with the idea for the first programme I directed, which was Dom Joly's The Complainers for Channel 5. If you come up with the idea then you've got a big head start on the rest because it's your baby.
"The most famous people I have worked with are the most pleasant."

– Ed Davies
Did you do any formal media training?
I did media studies at A-level and followed this up with a degree in film and television. At first I thought a media degree was a waste of time as it doesn't make much difference at the start of your career, you've still got to run around fetching stuff and making coffee like anyone else. But I think an academic background helps you in the long run when it comes to writing and especially when chatting to commissioning editors.
What programmes are on your must-view list now?
Given how hard it is to be original these days, I have massive respect for Peep Show. It's consistently funny and has its own distinct style. I'm most jealous of those expensive BBC wildlife series where they get to hang out in the jungle for six months, witnessing things that no man has ever seen before and getting paid to do so.
Has there been a moment where you've thought, "I can't believe I get paid to do this"?
Several, for very different reasons. I made a series for MTV which mostly consisted of hanging out with a bunch of pop stars in posh nightclubs, surrounded by attractive and scantily-clad women. I've also been lucky enough to travel to exotic places like Africa, Brazil and Russia for work, which is always brilliant. On the other hand, I've worked on some serious medical documentaries where I witnessed people dying in front of my eyes. That was very emotional and made me question the morality of the job and what I was doing there.
What's been the proudest or most memorable moment of your career so far?
Seeing the billboard for Totally Boyband, the first series that I'd devised, just off Oxford Street. I was well chuffed. It's always nice when my mum sends me clippings of good reviews too.
What things do you always take on a shoot – physical objects and personal skills?
I almost always forget something important. If you are anything like me, it helps to have someone else with you who understands you and has your back.
Most useful skill you've developed?
How to relate to people. It's a real skill to be personable and engage with someone without patronising or intimidating them, or coming off as false. You should be able to build a rapport as easily with a bin-man as with a supermodel.
Hardest lesson learnt?
You can never prepare well enough. Even after several years, I find it reassuring to write a checklist of things such as shot list, interview questions, camera set-up notes and tick them off as I go. It's much easier to do this the day before because on the day there's a million things going on; it's very easy to forget something in the heat of the moment.
Anything you know now that you wished you knew then?
Although I shoot, I've never been interested in the techy side of things; I've always found it a bit nerdy. However, I've grown to realise that a good understanding of the technological possibilities at your disposal can help you make the best of your ideas.
Who has taught/inspired you the most?
I've been lucky enough to work with directors like James Routh who took the time to invest in me and give me advice on many different aspects of the job. People like that are a rare breed so you should appreciate it when you find one.
Did you always want to be a producer/director?
Although I knew I wanted to work in the film and television industries, I didn't know exactly what role I wanted in that area. I have ended up where I am through a series of chance events which I could never have predicted.
Biggest surprise?
The celebrity fame to ego ratio is surprisingly inverted. The most famous people I have worked with are the most pleasant, undemanding and charming. Stephen Fry stands out as a perfect gentleman and great company too.
What three tips would you give someone wanting to do your job?
- Suck up as much inspiration and as many influences as you can. The more reference points you have, the better your own ideas will be.
- Be prepared to put yourself out at the start of the career. People really notice if you're helpful and willing and it goes a long way to getting you noticed.
- Don't be too proud to ask for other people's advice. Just because you're in charge of a shoot doesn't mean you suddenly know everything. But if you do use someone else's ideas, don't be a cretin; give credit where it's due.