Meg Jones: BBC Design Trainee Scheme
Meg Jones, a BBC design trainee, talks about her varied day working on spy drama Complicit.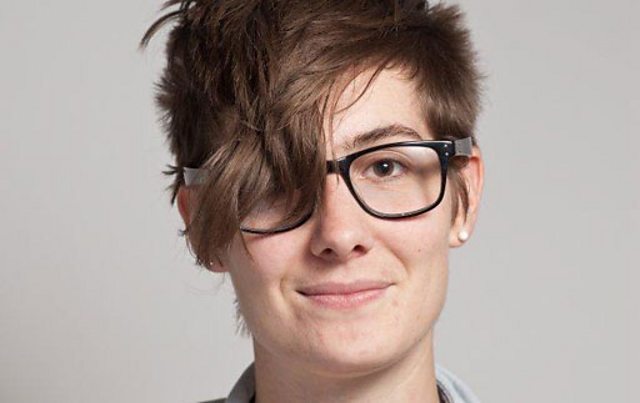 A day in the life of an art department
My name's Meg Jones. I'm an art department trainee on the BBC Design Trainee Scheme, and this is what I do.
Trainees work on a number of productions throughout our 12 months on the scheme and my role varies a lot depending on what production I'm on, so I'll talk you through my day today on a crime, torture and spy drama called Complicit.
First up, bright and early, I went to location in Shoreditch to deliver a few things and meet the standby art director to go over this week's graphics. Then I did an hour of set-dressing before heading back to the production offices in Battersea, whilst making a few slightly panicked phone calls trying to track down some Egyptian money for tomorrow (it's surprisingly hard to get Egyptian coins at late notice!).
My main role on this job is graphics, so once back in the office I carried on with this, designing some big weird-looking maps to go on an office wall in the MI5 set. Then I processed, printed and mounted some surveillance-style photos I took yesterday with one of the lead actors and some studio assistants. These are going to be in files in the MI5 sets and it's nice to be producing graphics that are going to be physical things, almost making them into real objects as opposed to 2D things.
I originally trained as an architect, so I called in a few favours by persuading my old practice to let me have a copy of some complicated-looking building plans. These were to put on the wall in the corridor of the MI5 set, which I added some texture and labels to so they look like evacuation plans. Then I made sure everything I had produced today was printed and labeled up clearly. I sent it all off to set with the production runner to give to the standby art director and prop man ready for shooting. Then I tidied the office and left to arrive home at 8.55, just in time for The Apprentice…
Since this post, Meg has started working on Call the Midwife and has just completed a week's work experience on the sequel to Kick-Ass.
Find out more about the BBC design trainee scheme.
Listen to our CoP Show podcasts on getting into television production design and interactive design.