Peter Leonard: series producer
Peter Leonard is a series producer in the science department of BBC Vision. Among his credits is the BBC Two maths series The Code and more recently he has just made The Secrets of Everything for BBC Three. Peter is currently in the midst of a new Brian Cox series for BBC Two called Science Britannica.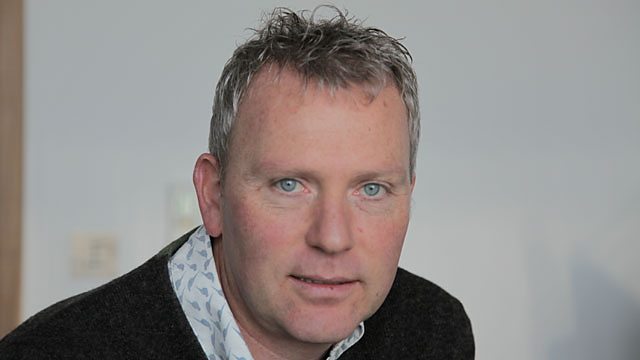 What was your first job in the media and how did you get it?
I was a trainee recording operator in BBC post production. Basically I was a VT operator. I got into it largely by mistake. I had no real idea what TV was about except for the fact that it sounded cool and I loved photography and wasn't as good at my degree course in chemistry as I thought I might have been.
"I think that formal media training can be counter productive in that it can make you believe you've nothing left to learn." – Peter Leonard
How long did it take you from there to being a series producer?
To being a series producer it took 23 years, though my career path isn't typical, as I worked in post production for ten years – four as an editor – before a 'second' career in TV production.
Did you do any formal media training?
No – only a chemistry degree (just about).
Was there a formative person or programme which made you want to work in the media?
As soon as I started working in TV I knew it was what I'd always wanted to do, but I didn't have any real ambitions in the media before then. I loved the BBC, having been force fed Radio 4 from birth.
I think that formal training (media studies, film and TV production etc) can be counter productive in that it can make you believe you've nothing left to learn. Curiosity and an open mind are the best qualifications.
What programmes are on your must-listen or must-view list?
On radio: Today and PM when possible, I'm Sorry I Haven't A Clue and The News Quiz,
On TV: QI, Have I Got News For You, The Apprentice, Dragon's Den, NHU output generally, Horizon and The Hour.
Has there been a moment where you've thought, "I can't believe I get paid to do this"?
Lots. Highlights include standing on top of the radio telescope at Arecibo in Puerto Rico, shooting aerial footage of the snow in the Cairngorms, filming in Europe's deepest mine searching for dark matter. Loads of privileged behind the scenes access that the public just never see.
What's been the proudest or most memorable moment of your career so far?
Winning some awards for a Horizon film. (Peter won a European Science Award for his 2007 film Most of our Universe is Missing)
What things do you always take on a shoot – physical objects and personal skills?
Sense of humour, a willingness to adapt and a watch.
Most useful skill you've developed?
Collaboration.
Hardest lesson learnt?
You can't do it all yourself.
Anything you know now that you wish you knew then?
Great things happen when you jump in out of your depth. Up to a point.
Who has taught or inspired you the most?
Andrew Cohen – initially when editor of Horizon. He gave me huge freedom and good advice. Also, film editor Andy Warboys and cameraman Steve Moss who always have better ideas than me.
Are you doing now what you thought you'd be doing?
It's been pretty organic. I never really thought I'd be a producer years ago, so I suppose 'no'.
Biggest surprise?
No-one knows it all. They just usually pretend they do.
What tips would you give someone wanting to do your job?
- You need to have goals. Say it's science – make sure your research jobs take you to Bang Goes the Theory and then Horizon. Later on, when you're looking to move on and up in TV production, always try to think like someone at the next level. If people see you thinking and behaving like (say) a producer or series producer, they'll be much happier about letting you do it for real.
- If you're just starting out: be a sponge, learn about everything. Know about editing and camera work, watch movies, make movies – even 'my mates and me go snow-boarding/to the zoo' type movies. It'll teach you lots – and it's never been easier.