I made… Deadly 360
Making a futuristic natural history programme for children involves teamwork, hard work and finding the right archive to bring its themes to life. But where does a senior researcher start? BBC Natural History Unit's Amanda Kear explains.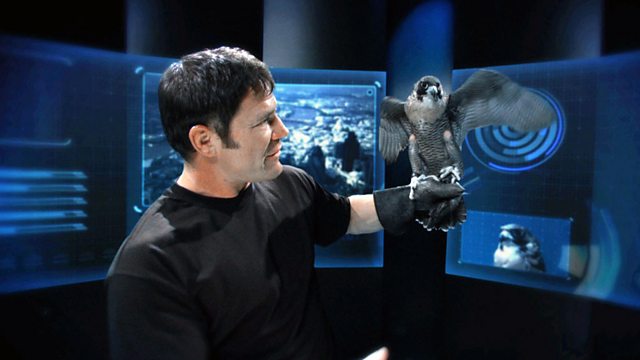 Job title and what that role involved on this specific programme
I'm a senior researcher (a career path that means I get to stay a researcher forever) and shared the research work on Deadly 360 with another researcher, Nick Green. As Nick was fairly new to the BBC, the workload was split so that Nick was mainly responsible for setting up the studio shoots, and I was mainly responsible for finding archive, with both of us sharing the factual research.
This is what I did
The Deadly 360 concept was to use wildlife archive to analyse how predators attack prey and how prey escape, and to use our presenter Steve Backshall moving clips and graphics around 'Minority Report' style in the studio. For this I brainstormed with the producers and other researchers on what type of sequences the archive material would support and how those sequences could be used to make thematic episodes, such as Birds of Prey or Arboreal Hunters.
Once we had a rough idea of which animals would be in our programmes, it was down to the nitty gritty of getting out tapes, viewing the footage, checking the copyright and finding out the costs of anything that was from an indie or non-BBC. When we were extremely time pressured, I also helped out the edit assistants by logging and digitising.
"This was the first production I'd worked on which had a complicated green-screen studio shoot, and I learned tons."

– Amanda Kear
Finally, at the bitter end I took on the task of producing fully annotated EDLs (edit decision list) with all the copyright information on them lovingly colour coded, so that our production coordinator could refer to them to produce our post-production paperwork.
Who I worked alongside and where I sat in the overall production
Myself and the other researcher, Nick Green, were on call to all the producers (Adam Oldroyd, Wendy Bowden, Ben Aviss) and editors (Chris Mallet, Tim Lasseter, Mike Chichester, Ross McFall) throughout the production. Our lovely series producer Mark Jones made the pilot episode as a template for everyone else to work to, and then looked after the studio side of things.
Sam Cheney and Doug Main, our incredibly hard-working edit assistants, were constantly on the verge of drowning under a sea of archive rushes tapes that I had found for them to digitise. Once the shoots were done, our production coordinator Marie-Anne Hendry and production manager Lisa Walters had time to devote to assessing potential archive costs, and completing the post-production paperwork, so I worked closely with them to get all of that done.
What did my typical day involved
I'd get requests for specific footage or facts from the various producers and/or editors. So I would hit the scientific literature for facts and figures about animals, do searches to identify what archive footage we had that would fit the bill, order up tapes for viewing and logging, and negotiate with people from other productions if we all wanted the same tapes at the same time.
Before any archive footage went anywhere near the edits I'd add the copyright details, cameraman name and current whereabouts for that tape to our massive copyright and tape tracking spreadsheet, warn the producers or editors if the stuff they wanted would cost money to use, and then hand stuff to the edit assistants with notes of which shots to mark up as 'non-BBC'.
A moment in this production I'm particularly proud of
The colossal squid jaws that Steve looks at in the studio were mine. They'd been languishing in a cupboard since 1990 so it was nice to give them a new lease of life. They've now been donated to Bristol City Museum.
Something I learned that I'll take on from this production to the next
Moving offices when you are in the middle of a production and there are tapes everywhere is a nightmare! But more seriously, this was the first production I'd worked on which had a complicated green-screen studio shoot, and I learned tons.
The programme I'd kill to work on...
If Doctor Who ever needs a natural history researcher, I'm their woman.