I made... Collaboration Culture
Nico Wasserman is a producer and director for the BBC, specialising in arts, current affairs and digital media. He worked on BBC World's ground-breaking TV and online project Collaboration Culture.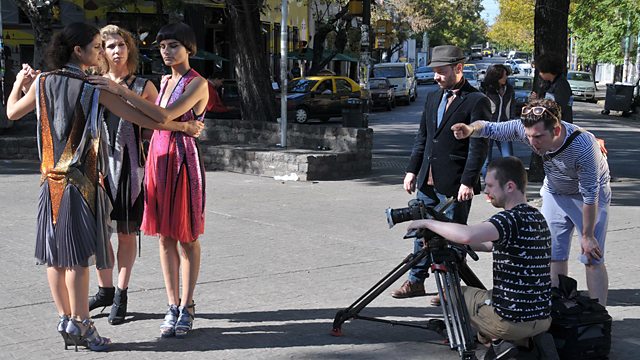 This is what I did
This was an exciting opportunity to bring cutting edge arts and culture to a BIG international audience of around 70 million people.
The idea was simple. Take creative people working across the world in a variety of disciplines, including fashion, art, music and cookery, join them up and see what would happen. Logistically, it was a real challenge but very rewarding. We had Turner Prize winner Jeremy Deller travelling to the Caribbean to collaborate with a steel band and triple Michelin starred pastry chef Jordi Roca from Spain schlepping to Peru to join up with Gaston Acurio, South America's answer to Jamie Oliver, and create a feast for the President's wife.
My 30-minute programme opened the series. First I travelled to Buenos Aires to film with the hottest fashion designer in Argentina, Martin Churba, which was tremendously exciting. Buenos Aires is a great city for filming, hugely accommodating and everything looks stunning. No wonder it is used as a backdrop to countless adverts and movies. Then we flew half way around the world to Mumbai and filmed for a few days with Lady Gaga's favourite milliner, Shilpa Chavan. Then Martin joined us and we had an intense few days of frantic collaboration, amazing food and lots of late nights filming. It was a terrific experience, culminating in a mad dash through the streets of Mumbai as we staged a flash mob fashion show in the open air.
Who I worked alongside and where I sat in the overall production
I was lucky to work with an amazing team at Zodiak Active who made all this happen including series producer extraordinaire Emily Kennedy, head of production Kate Lovett and a very talented DOP called Franklin Dow who heroically filmed all the madness.
In both locations, the input of locals was essential in setting everything up. We were very fortunate to have two brilliant fixers on the ground in each city that could help with visas, hotels and negotiating access to locations. They were Gert de Saedeleer in Buenos Aires and Amit Vachharajani in Mumbai, who also introduced us to a great local soundman, Kevin Pinto.
"Even with observational filming, you can do a lot of the scripting before a single frame is shot."

– Nico Wasserman
What my typical day involved
A typical day would be waking up at 6am in our hotel in Mumbai, rushing out to film the famous sunrise and other general shots of people going to work, sweeping the streets or generally risking their lives racing around on a tuk tuk. With a process film like this, it's very useful in the edit to have shots that say clearly that this is a start of a new day. Likewise, shots that close are very useful too. Then, we'd grab breakfast and head to our first location, such as a market with our two designers. I probably annoyed them slightly by demanding lots of off the cuff interviews and getting them to do countless walking shots. Again, so useful in the edit. You want to communicate that this is a journey and if you don't ask questions throughout the day you won't get an idea of what's in their head. I am not a huge fan of programmes that have too much voice over, I much prefer contributors to tell the story themselves.
We would film over the day a mixture of indoor and outdoor locations before finding a nice way to wrap the day's work. I was fortunate that Martin and Shilpa were big characters and could bounce of each other brilliantly. The day would typically finish with ordering room service and politely declining invites to attend warehouse parties and posh openings from our generous host as Frank and I had several hours of media downloading to do from our rushes.
A moment I'm particularly proud of
The last day of filming on the streets of downtown Mumbai was one of the most special moments of my professional career. The clothes our designers came up with looked amazing, the light was beautiful and we had a crack team of people helping us make what could have easily have been a huge headache turn into a magical experience.
Something I learned that I'll take on from this production to the next
The importance of planning. Even with observational filming like this, you can do a lot of the scripting before a single frame is shot. It's not twisting the truth, instead it's about having a clear idea what each day will consist of and how it will move the story along. The end result can still be different to what you planned but it will ensure each day of filming is maximised and help you out in the edit later too.
My biggest surprise
Going to Buenos Aires as a tourist. Both my parents were born there and I have a lot of family in the city that I visit every few years, but it was a great surprise to see it from another point of view. I really valued how stunning a city it is and how accommodating for filming.
The programme I'd kill to work on
David Fincher's remake of House of Cards on Netflix was a revelation. Incredible production values, cinematography, acting, scripting... it had it all. Failing getting a job making coffee on the next series, Storage Wars is top of my list, just to work with the genius that is Barry Weiss.