Making waves behind bars
Innovative radio with ten Sony Radio Academy Awards and a way to rehabilitate prisoners - The Prison Radio Association's director of radio Andrew Wilkie talks about National Prison Radio.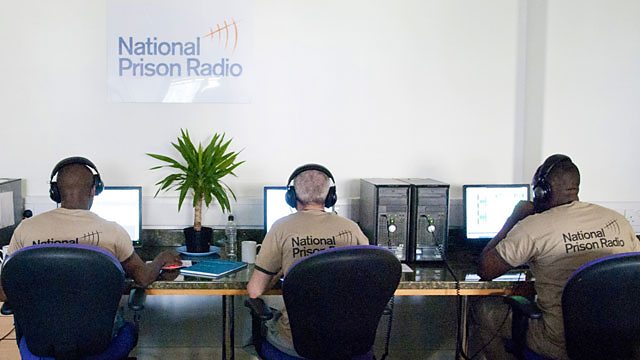 I work for a charity the Prison Radio Association (PRA), which aims to help reduce reoffending using the power of radio.
The PRA runs National Prison Radio, a unique radio station which broadcasts programmes presented and produced by teams of prisoners working alongside the PRA's staff of radio professionals.
Funded largely by charitable trusts and grant-giving organisations, National Prison Radio is available to prisoners across England and Wales in their cells 24 hours a day. Our latest research indicates that 45% of prisoners listen every day, and over 80% listen at least once a week.
"Prison is not an environment which is naturally conducive to constructive dialogue." – Andrew Wilkie
The service aims to give prisoners the information they need to make the most of the opportunities available to them in prison to address the causes of their offending behaviour and prepare for a law-abiding life after release. It also acts as the soundtrack to prison life, setting a constructive and inspirational tone to encourage prisoners to make positive changes to their lives.
Prison is not an environment which is naturally conducive to constructive dialogue. Prison wings can be intimidating places. Drug abuse, mental health problems, low literacy levels and a myriad of other complex issues are common. Prisoners may experience debilitating feelings of guilt, fear and worry.
Information is difficult to come by: sources people in the wider community rely on – such as the internet, friends and family on the end of a phone, even newspapers – are either not available at all or very difficult to come by on a prison wing. People in prison are physically isolated from the rest of society.
PRA staff seek out those prisoners who are making genuine attempts to change, and who can act as a positive influence on their peers. Such voices have great value in prison – they are credible and can be genuinely inspirational for their fellow prisoners. National Prison Radio is able to amplify their voices, allowing them to share their experiences in a safe, structured way.
Crucially, National Prison Radio's audience is firmly at the heart of its programming. Prisoners don't have access to the usual methods of audience interaction, such as social media, email and SMS. But they can write letters, and the presenters plug the station's postal address on-air as a priority. National Prison Radio regularly receives more than 500 letters a month from listeners.
Some simply request songs, but some share their experiences in great detail, and programming is centred around these stories. On-air, these contributions are always framed around positive messages, signposting prisoners to sources of support. Content is aspirational, emphasising constructive ways out of troubling situations.
PRA staff and National Prison Radio's prisoner-producers develop on-air features which encourage sharing of stories and experiences – features such as Fifty Word Life Stories, where listeners are invited to tell the story of their life in no more than fifty words, or Jail Tales, a very short interview between two prisoners.
By providing a credible, popular, safe environment for sharing experiences, alongside crucial information, in an entertaining and accessible format, National Prison Radio encourages prisoners to think about the impact of their actions on themselves, their families, their victims and society as a whole, and take steps towards living a successful, crime-free life after release.
For the prisoners involved in production, our work proves that radio is a fantastic way to get educationally hard-to-reach prisoners into the classroom. Most prisoners we work with complete an NCFE qualification in radio production prior to starting full-time on National Prison Radio. This gives them the basic production skills to put together packages and programmes – such as how to prepare and make a recording, how to use a studio desk, interviewing, scripting and editing skills.
But the work provides them with far more than radio production skills. They also develop a host of skills that are useful in all sorts of areas of employment – IT skills, literacy and numeracy, communication and team-working, working to a deadline, and crucially the self-esteem, self-confidence and sense of pride that goes with producing a piece of great radio.
We're careful not to give our prisoners the impression that working with the PRA is a ticket to a career in the media. Far from it – we give them an honest assessment of conditions within the industry from the beginning. But we do make them aware of opportunities that may exist in community radio after release, and a handful of prisoners have gone on to work with organisations like CSV Media and Wythenshawe FM.
National Prison Radio exists in the most unlikely of circumstances. It runs with scarce resources in a challenging, bleak environment. Despite this, the quality of programming has always been of paramount importance. This ensures maximum benefit for those prisoners working on the station, producing something they can be proud of.
But the station's most significant impact is on the listening audience. National Prison Radio produces life-changing content that we know the audience is proud to be part of. For these reasons, PRA staff and prisoners have been the proud recipients of ten Sony Radio Academy Awards in the last five years.
Elsewhere on the Web