Monki: club DJ to Radio 1
Monki presents her own specialist music show on BBC Radio 1 and 1Xtra but it took confidence, determination plus plenty of experience and a good grasp of the technical side to get there. She tells us her story.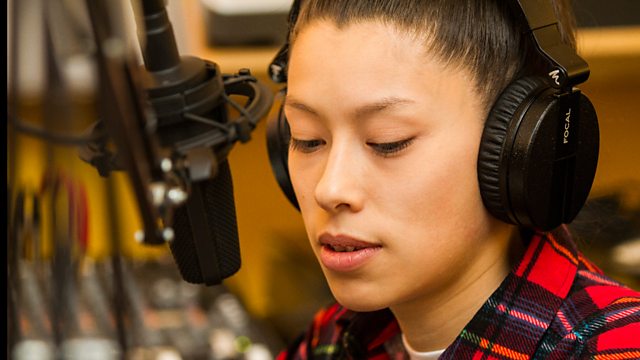 How it began
I was DJing before I was broadcasting, be it in my bedroom or to my friends, but it was at college when I was 17 when I decided that I wanted to do radio. I knew absolutely nothing about it but I just knew that's what I wanted to do. I was studying law and economics but it was super-academic and I'm actually more sporty and creative. It was more a safety net as my Mum's a lawyer and I felt I should do it.
It was listening to specialist shows on BBC Radio 1 that really swayed me towards wanting to get into radio. I used to listen and think, 'these guys get to do their hobby for their job and make a living out of it', so I thought if I don't go for it, I'm just going to regret it. I think I was actually quite naïve as I thought 'let's just try it', which helped a little bit, I guess.
Learning the trade
First, I saved up all summer so I could afford a three month course learning the basics of radio production. It taught me the technical side of things like how to work a studio desk, how to edit and make jingles, and so once I had that, I felt I could go out and approach people.
I then started doing as many internships as humanly possible - not just in radio but also with record labels. I was keen to meet as many people linked to the industry as I could.
I also did a few shows with my mate on Camden Roundhouse Radio and hooked up with Radio Jackie which is a community station in Surrey. Musically it wasn't up my street at all, but the people there were really nice and weirdly enough they knew Rinse FM and that's how I got in got in touch with them.
"I kept true to the music I wanted to play and thought people might enjoy but in the back of my head I thought I just can't fail"

– Monki
Making the breakthrough
After that it all happened really quickly! I did my first cover show on Rinse FM in October 2010, then a week later I opened for Annie Mac at her Annie Mac Presents night at Koko in London. I had met Annie in the audience for a TV show she was co-hosting with Nick Grimshaw and I started sending her mixes.
One day she just emailed to ask if I wanted to come and warm up for her. It was my first proper DJ gig where I wasn't just playing to mates! Only a week after that I got asked to keep my Rinse FM show as well.
I did my Rinse show for three years before I got my first pilot for BBC Radio 1's In New DJs We Trust. I did loads of preparation for the pilot as I really wanted to get the slot. I was sent a template script which I filled in with tracks I wanted to play.
When I turned up at the studio I think I took the producers by surprise as I'd just assumed I would mix live and speak at the same time because that was the way I was used to doing it at Rinse, but it turned out I was the first person to do that. I think maybe it made me stand out a bit, plus a lot of the In New DJs We Trust guys had never done radio before so I had an advantage going in.
I didn't get the show the first time round but I didn't give up and recorded a second pilot a couple of months later and that time I got through. I went into In New DJs We Trust thinking I just have to smash it otherwise I may never get this opportunity again! I kept true to the music I wanted to play and thought people might enjoy but in the back of my head I thought 'I just can't fail'.
Live on Radio 1
I remember my first ever show on Radio 1 so clearly. They asked me to do it live as I'd done live radio before, so I said ok but I was a bit scared.
Hardly anyone was there as it was 9pm and I remember watching the big countdown clock before we went on air and when we went live I felt like I was just talking to the two producers so it wasn't as daunting as I thought it was going to be.
I did call Zane Lowe 'Vain Lowe' by accident on my first ever link though. I'd never even met the guy and I remember wanting the whole world to just eat me up and I apologised profusely afterwards. But it was fun and the producers made me feel super-comfortable.
Learning from the best in the business
I get asked what it's like having Annie Mac as my mentor in interviews quite a bit, but we've never really officially given it that tag, I see her more of like a big sister or something. Of course she's had a massive influence on me, but we're mates and like any mate you can ask them for advice.
She's not the only one I go to for advice, there are plenty of people behind the scenes that I've had a chat with like DJs, producers and presenters. It's more like talking to friends and taking bits of what they say and making it into your own advice.
Selling yourself
I hate the word networking, it's such a lame word, but meeting people is super important for making the move from club to radio DJ.
I've got friends who are producers and they're really talented but they just don't go out and meet people so they never share what they've got, so it can go to waste if you don't get to know other people. If it wasn't for me having gone out and met people, I would never have been at Rinse or got a pilot at Radio 1.
Learning all the time
One of the most useful things I've learned since starting my regular show at Radio 1 and 1Xtra is storytelling. When I first started out in radio, I did a lot less talking on air, not because I had less to say but just because I didn't know exactly what to talk about. It was very limited to things like 'big up John in his van on the M4'! There was no storytelling which was something I always wanted to do. Changing up the script to suit how I broadcast has been brilliant in making my presenting feel more natural.
Going into New Broadcasting House every week also means that I feel a part of the Radio 1 and 1Xtra family and I'm getting to know more and more people. It's been great to get indie production company Folded Wing producing me as well as I feel like I've got my own proper team and it definitely feels more like my show.
I also try to listen back to every show so I can make the next one better and although it's still frustrating when I get something wrong, it's all part of the process. It's still not even been that long yet and I'm learning all the time!
Monki is on BBC Radio 1 and 1Xtra, Mondays 0200-0400
Monki will be taking over Rob Da Bank's Radio 1 show on Saturday 8th March 2014 at 5am for International Women's Day.
Elsewhere on the Web