Question Time: a day in social media
From a fledgling hashtag to a Twitter feed with massive global reach, interactive producer Alex Hudson describes how the frenetic pace of social media activity has transformed conversations on BBC Question Time.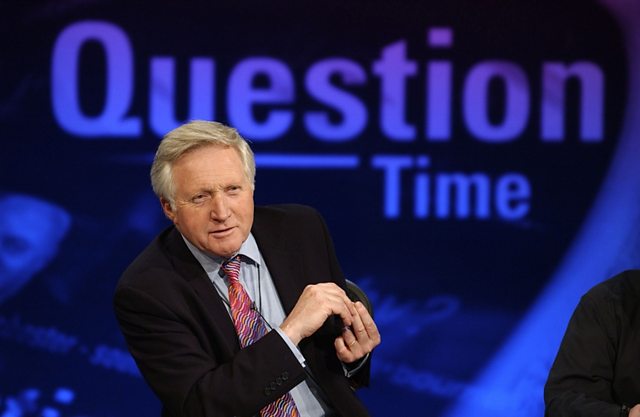 I'm Alex Hudson and I'm interactive producer on Question Time, responsible for all things social media. The Twitter conversation from @bbcquestiontime is also 'my fault'.
Question Time on social media seems to be a law unto itself. It started in 2009 with a few people down the pub beginning to use #bbcqt. We picked it up from September 2009 and now it's moved from 300 tweets a programme to an average of around 40,000. A tweet about Question Time will appear on about 100 million people's Twitter feed each week. When Russell Brand or Boris Johnson were on, at its peak there were over 2,000 tweets a minute.
"The conversation is the audience's and they are brilliant, eloquent and only infrequently unbroadcastably offensive."

– Alex Hudson
The @bbcquestiontime account is mainly to bring more people into a conversation, to point out what conversations the audience may have missed and to stimulate a wider understanding of the issue. The conversation is the audience's and they are brilliant, eloquent and only infrequently – relatively speaking – unbroadcastably offensive.
Our social media production is a small one, with just me and someone checking over my work externally. This means that the team is looking at a lot of things in a short amount of time.
The question topics are decided on at around 7.30pm so cramming a lot of research into an hour is the first task. What will the audience want to know about it? What's the latest on it? What have the panellists said about it before? What have a wide variety of interesting commentators said about it?
The second task is trawling over the programme recording from around 8.30pm, verbatim quoting any news lines or opinions of contention and checking through source material and, if these opinions are referencing something, working out where that referencing is from.
David Dimbleby's notes are close at hand so they're also used, and once the programme finishes it's on to recording and a read through with a strong coffee.
As 10.20pm approaches, the audience is ready to begin the debate about what may come up and I'm keen to start that conversation. The key thing is to show that we're listening and that we actually read and care about what they're talking about. I do. #bbcqt is primarily a discussion about the issues and the things said rather than just a stream telling you that the programme's on - though David's tie does get a lot of attention.
With preparations complete, and 40,000 tweets to fire through using Tweetdeck, Twitterfall and Second Sync, it's a sure-fire way to learn to be able to do things very quickly and – hopefully – very accurately.
Our key job throughout the programme is balancing the audience's opinions and the number of people of saying something. And if most of the audience really dislike what a panellist is saying, we will have to reflect that.
Setting off for home at just before midnight, the debrief can most definitely wait until the morning.
Elsewhere on the Web