The BBC Sport Facebook app
BBC Sport's Aaron Scullion explains his role in broadcasting the BBC Olympic coverage via Facebook and how the audience were able to dictate their own schedule.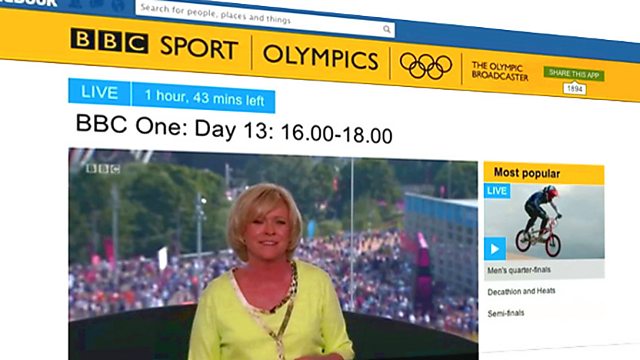 The London 2012 Olympics showcased not just some of the greatest sportsmen and women from around the world, but also the best in broadcasting and creative talent from the BBC. From the dramatic opening ceremony to the thrills of 'Super Saturday', the BBC's coverage was widely praised around the world, and we have brought together our own highlights in our new collection of case study films, taking a detailed look at how the Olympics were brought to you, from build-up to broadcast.
The BBC Sport Facebook app drew a lot of attention during the Games, and even before its launch. For Aaron Scullion, executive product manager for BBC Future Media, this app offered the BBC the opportunity to reach license fee payers in new and more targeted ways, allowing them to consume live content, and comment on the videos they were watching.
"Audiences want to be able to watch what they're interested in when they want to watch it and not have the schedule dictated by us."

– Aaron Scullion
"The intention was to bring the live video to an audience who might not have had it through our own website," says Aaron. "Facebook as a proposition was there for a long time, but it wasn't until quite close to the Olympics that we knew we could do it from a technical perspective."
The app ran alongside the BBC's other online platforms and applications, including the BBC sport website, mobile service, connected TV and red button service, but for Aaron, it had to offer something different to all these. "We were determined to make it possible for people to communicate around the live sport events," he says.
As audiences have become much more engaged with content, Aaron felt the Facebook app was the perfect tool to meet their needs. "They want to be able to watch what they're interested in when they want to watch it," he says, "and not have the schedule dictated by us. To be in a position to be able to make that possible as developers was brilliant."
Note: All London 2012 Olympics content contained within bbc.co.uk/collegeofproduction is for original purpose only and under rights agreement is forbidden to be used or sub-licensed elsewhere.