Behind the scenes: Our World War
Our World War uses real life testimony and immersive camerawork to capture the First World War combat experience through a soldier's eyes. The College of Production's Ben Toone attended a Q&A on the series with series producer Sue Horth, writer Joe Barton and executive producer Colin Barr.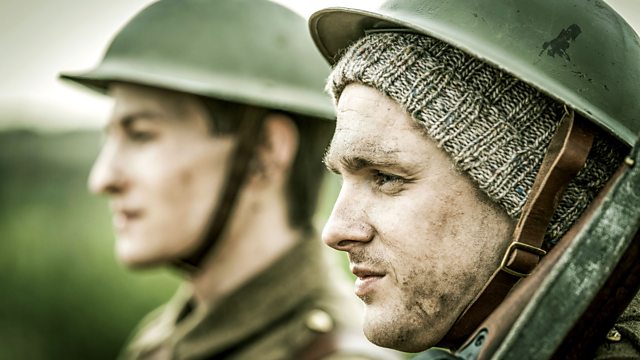 The idea for Our World War came from one of the contributors to the first series of Our War. Lieutenant Bjorn Rose wondered what it would have been like if soldiers in historical battles had the modern camera technology he and his soldiers had on their tour of Afghanistan. What would the Charge of the Light Brigade look like with helmet cameras?
Colin Barr, executive producer of the Our War, adopted that idea for the BBC's World War One Centenary coverage. The aim was to translate the production values, adrenaline and modern attitude of Our War to the First World War.
Unlike Our War, which is based on footage filmed by modern soldiers in their tours of Afghanistan, Our World War would have to be done in the form of a drama, albeit one using historical accounts. The challenge was to capture the immediate feeling of combat and comradeship that Our War captures with real footage.
"I'd been wondering what the First World War would have looked like if you had the technology available today." – Colin Barr
Research
Sue Horth's background in producing historical factual drama such as 37 days, Relief of Belsen, The Man Who Crossed Hitler and Trafalgar Battle Surgeon, made her ideal to bring onto the project.
She and her production team looked through primary source material – letters, diaries and recorded interviews with veterans – to find compelling stories that could be turned into a drama. They wanted to find stories of small groups of men, to focus on the personal stories of the war.
Writing
It was decided that the series would have a strong narrative arc, at the beginning, middle and end of the war. The stories also reflect lesser known aspects of the war and different types of conflict - urban, woodland and tank warfare – as well as the trenches.
Writer Joe Barton's challenge was to bring the letters and diaries to life and to keep it both authentic and plausible. It was a case of trial and error to get the stories into shape and create a workable shooting script.
Sub plots were added and removed to work with the narrative and the scope of what could be done within a tight budget and tight production timetable (twelve days per episode).
Filming
Our World War is shot in a way that takes the audience up close and personal to the action. The immersive filmmaking style gives it a similar look and feel of big budget productions such as Band of Brothers and The Pacific as well as Our War and first shooter computer games like Call of Duty.
Director Bruce Goodison used helmet cameras, body rigs and close up shots to keep the claustrophobic feel. Heat map birdseye view shots were also used to inform the viewer of what the soldiers could not see on the ground, the movements of soldiers and on-coming troop movements.
Actors were trained at British Army facilities and were supported by army cadets, many of whom became extras on set. Authentic hardware was used where possible, with actors firing blanks ammunition both in training and during shooting.
The training provided a great opportunity for production sound mixer Nigel Albermaniche to record authentic battlefield sounds of machine gun fire, rifles and tanks.
In Our War there would be sequences where the camera would be focused outside of the action and the battle would be taking place elsewhere, but you'd be able to hear it happening. That sensibility was taken to Our World War, where having the sound of bullets whizzing over head was enough to give the audience the sense that shots were being fired, even though they couldn't see it.