I made... Hidden Kingdoms
Billed as 'Pixar meets Planet Earth', BBC One's ground-breaking series Hidden Kingdoms used dramatic reconstructions to show tiny animals in the wild. Producer Simon Bell tells us more about combining storytelling with natural history.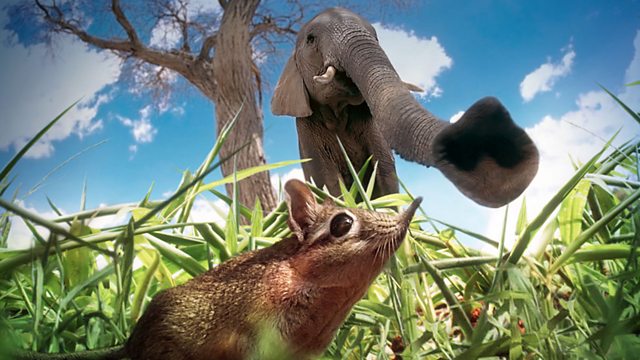 I worked on...
I worked on Hidden Kingdoms, a three-part series from the BBC's Natural History Unit in Bristol, which was something of a departure from our normal wildlife programmes. This series was billed as 'dramatised' natural history.
The behaviour and animals we filmed were very real, but some events that these tiny animals experience in the wild would have been impossible to film and required an element of dramatic reconstruction. The result gave a unique insight into the extraordinary lives of these miniature animals and worlds we would never usually see and has been described by some as 'Pixar meets Planet Earth'.
Job title and what that role involved on this specific programme
I'm one of three producers, each of whom were responsible for writing, directing and delivering one programme in the series under the direction of a series producer and our executive producer.
"I played an early edit of the film to members of my production team. In one scene a young mouse leaves home for the first time and when I turned around several people were welling up with tears!"

– Simon Bell
This is what I did
I chose the animals that appeared in the programme, worked with a researcher to learn more about them and where they could be filmed. I devised and wrote the story based on scientific fact, directed a camera team on location in Kenya and Arizona over four three-week trips, and then worked with an editor and visual effects artists to bring the programme to the screen. All the while I was supported by production co-ordinators and a production manager who mastermind the logistics and financial arrangements for the series.
What my typical day involved
Is it a cliché to say I never have a typical day? I spend (in total) around two months every year abroad filming content for whatever programme I'm working on. Whilst on location I'm the 'man with the plan' – having initially worked with a researcher and liaised with contributors and experts in the field to set up the shoot.
I'll have written the script and I direct the camera operator and (sometimes) on-screen talent on location. I'm ultimately responsible for ensuring that when it's time to return to the UK we have everything we need to make that sequence work. Having said all that, a lot of the time it's a desk job: researching stories, writing scripts, viewing footage, emailing and talking to scientists about where in the world to film and how.
One moment in this production that I'm particularly proud of
Can I have three?
First, the chance to meet one of the story experts from Pixar who came across to the UK to work with the team for three days during the pre-production process to develop our ideas. The BBC is a great place for making training opportunities like this happen.
Another was the moment I played an early edit of the film to members of my production team. In one scene a young mouse leaves home for the first time and when I turned around several people were welling up with tears! Seen scampering across the kitchen floor most people would view the two tiny characters that are the stars of this programme as pests, but it was wonderful to see people emotionally engaging with the stories of these tiny animals.
Finally, watching the Twitter feed for the programme simultaneously displayed during the transmission of our show – like plugging into the stream of consciousness for a nation. It was incredibly distracting but overwhelmingly full of praise. I can now honestly say, having heard it first hand from several thousand viewers (in no more than 140 characters each) that what we made was creative, full of great characters, innovative, beautifully shot, and emotionally engaging, everything a BBC One programme should be.
Something I learned that I'll take on from this production to the next
I learnt a lot about the theory of storytelling and story structure from books such as Save the Cat by Blake Snyder and the expert from Pixar. It was fascinating to see how the stories for a lot of big budget Hollywood films fit into a very neat 'template' which is easy to understand and can be a great aid to creative script writing. I urge anyone with a passing interest to read that book (and its follow up, Save the Cat Strikes Back).
My biggest surprise
Discovering that there was a carnivorous mouse that hunts down North America's deadliest scorpion and howls at the moon to defend its territory like a tiny wolf... and then go and film it doing that!
The programme I'd kill to work on
It's been a joy to work on every BBC Natural History Unit project I've done. But what would be really exciting for me personally is finding something that would develop the storytelling skills I've picked up (partly through BBC Academy training).
The idea of a collaboration between the Natural History Unit and our friends in BBC Drama over the bridge in Wales would be particularly exciting, as would working on a follow up to something like Walking with Dinosaurs, where I'd be using my knowledge of existing animals to try to construct believable behavioural sequences for animals that died 65 million years ago!