Chris Smith: presenter, Radio 1 Newsbeat
From Chiltern Radio, via Xfm to a Sony Award winning team at Radio 1 – we talk to Newsbeat's Chris Smith about staying creative and keeping the news conversational.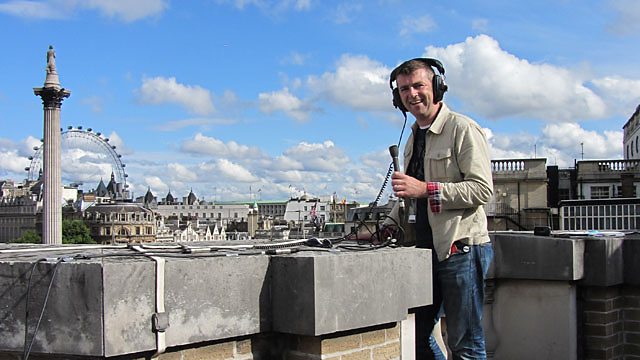 What was your first job in the media and how did you get it?
My first job was at Chiltern Radio in Dunstable. I got called in by the head of news after writing to every radio station I could find offering to make the tea. She was a very old-school journalist who gave me a voice test and said, "OK, luvvie, I think we can do something with you!" I got a week's work as an intern, and during that week I was taken on as a trainee journalist.
How long did it take you from there to where you are now?
Longer than I care to think about! Lots of highs and lows like any career – but I've tried to keep heading in roughly the right direction.
"Having creative ideas for programmes and scripts is a skill – not a talent – and you need to keep exercising your creativity muscle."

– Chris Smith
Did you do any formal training?
No, I studied English at university and was lucky enough to be offered on-the-job training.
Was there a formative person or programme which made you want to work in your area?
Definitely Chris Evans. I used to watch him on The Big Breakfast, and was lucky enough to read the news bulletins on his radio show on a few occasions.
What websites or programmes are on your must-view or must-listen list now?
I check loads of websites every day; newspapers like the LA Times and the Sydney Morning Herald to see what's making news in other parts of the world. The Onion is always good for a laugh. And Media Guardian and Digital Spy to keep up with radio industry gossip and what old colleagues are up to.
Has there been a moment where you've thought, "I can't believe I get paid to do this!"?
When I worked at Xfm we broadcast a show live from LA – our producer got married live on air. We got flown over there for free and stayed at a posh hotel on Sunset Strip. That wasn't a bad couple of days work...
What's been the proudest or most memorable moment of your career so far?
I've been lucky enough to be part of an award-winning team a few times, and going on stage to collect a Sony Award is always a proud moment. But broadcasting on Radio 1 for the first time is without doubt my top moment – it wasn't something I'd ever expected to do.
What gadget/app are you never without?
I'm never without my phone. We use them at Newsbeat for live broadcasting, recording, shooting stills and video – you name it.
Most useful skill you've developed?
Delivering the news in a conversational style is something I've always been passionate about, and it is a skill that takes a bit of practice. Having creative ideas for programmes and scripts is a skill too – not a talent – and you need to keep exercising your creativity muscle. But the most useful skill is still the one that got me my first job – making tea. It crosses all boundaries.
Hardest lesson learnt?
There will be times in your career when, no matter how well you've been doing so far, you will have to rely on your abilities and not your reputation. Be prepared to prove yourself again and again. Don't rest on your laurels, if you're lucky enough to get any!
Which tools do you use to keep up to date on the industry?
The Media Guardian, Radio Today and Media UK Twitter feeds make sure I don't miss any breaking radio news.
Anything you know now that you wished you knew then?
Nope – I love finding out about this stuff as I go along. That's at least half the fun.
Who has taught/ inspired you the most?
My first news editor Sheila Mallet, and my current one Rod McKenzie. They've both forgotten more about journalism than I'll ever know and I'll always be grateful to both of them for plucking me out of obscurity. I'm inspired by loads of people I work with at Radio 1. Sara Cox astounds me, her brain literally works three times faster than a normal person. I'm in awe.
What three tips would you give someone wanting to do your job?
1. Every knockback and rejection letter you get is a signpost pointing to the perfect job for you, you just need to learn to read them right.
2. If you don't know, ask someone. Never fails to amaze me how often that one gets ignored – and the results can be disastrous.
3. No matter how high you rise, never ever forget to make the tea.