Live from the Notting Hill Carnival
East London based community station NTS Radio broadcast some of the world's biggest DJ acts live from Europe's largest street carnival and on a shoestring budget. NTS Radio's director Sean McAuliffe and copy editor Tabitha Thorlu-Bangura tell us how they did it.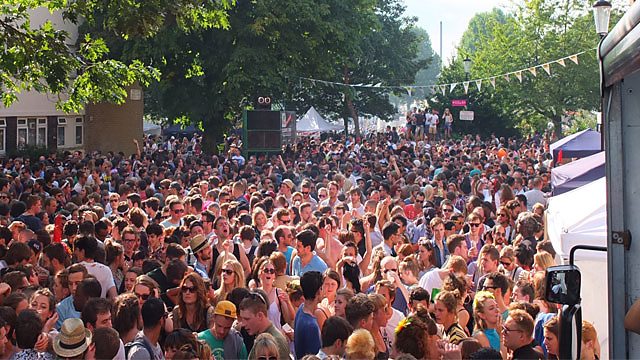 Formed in 2011, NTS Radio has grown into one of the world's most popular and respected online radio stations. Utilising the power of online broadcasting and a global NTS community of fans and hosts, we broadcast not only from our small studio in Dalston's Gillett Square but also from NTS music events worldwide. Open Source software programmes like Airtime, Radio DJ, OpenStation or Rivendell make remote broadcasting easier than it's ever been before.
Notting Hill Carnival is one of the greatest celebrations of London and Londoners, and as a station that takes huge inspiration from the sounds of the city it was founded in, we were honored to host a stage at Carnival this year. But there were a few hurdles to leap to make our Carnival debut a success. One of the main challenges we faced was how to broadcast a two-day party live on the station, with no reliable 4G connection and a lack of funding. At the biggest street festival in Europe, the effectiveness of 4G streaming is significantly reduced due to over-stretched bandwidth, and satellite communication was out of budget.
"One of the main challenges we faced was how to broadcast a two-day party live on the station, with no reliable 4G connection and a lack of funding."– Sean McAuliffe
NTS is all about people power, so we're used to making the most of the local community. Ask and you shall receive, we thought, and the vicar of the church that backed onto our stage agreed to let us run a hard line connection into the church's domestic Internet connection. However at the last minute, the vicar decided that the madness of Carnival might be too much for the church to handle, and backed out from keeping the church accessible during the weekend.
We'd already promised a live broadcast to our eager listeners, our financially-invested sponsors, and a crowd of DJs that included names like Jamie XX, Mark Ronson, Benji B, Hype Williams, Gilles Peterson, Theo Parrish and many more. Disappointing them because of one small act of God was out of the question.
Hoping for a Carnival miracle, we sprinted from door to door, praying to the gods of radio that there would be someone willing to let us use their internet connection within a 100 meter radius of our stage. After what felt like hundreds of 'nos', finally, at the very last minute, a lovely family agreed to let us jump on their internet access for a fraction of the huge costs we would have had to pay for a satellite broadcast.
But there were still some practical riddles to solve. How do you connect two one hundred metre ethernet cables from the third floor window of an apartment block to a truck on the other side of the street, without it getting crushed by thousands of Carnival goers? The answer involves some technological acrobatics and a whole lot of gaffer tape. We stuck the cables to the walls of a church, father forgive us, and lassoed them around the tops of streetlights.
It worked. Our fans across the globe could hear our soundsystem just as clearly as the ones packing out our stage in Notting Hill. The relatively cheap recording devices available today and the advancements in remote broadcasting software make broadcasting possible even in the most difficult situations. Which means stations like NTS can focus on what really matters to us: the quality of the content for our community of listeners.
Elsewhere on the Web