I make... Realmadrid TV
From bilingual news bulletins to a football talk show, Rhiannon Jones describes her role working for one of the world's most successful football clubs, Real Madrid.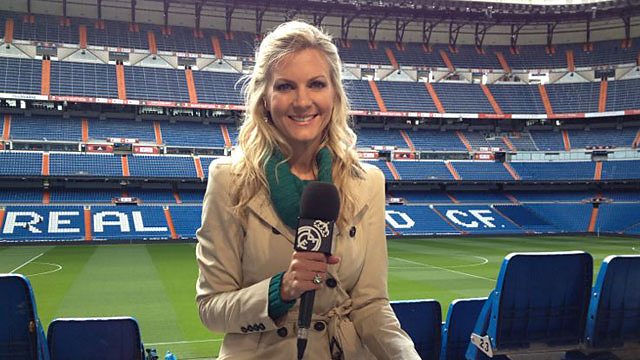 This is what I do
I'm a producer, presenter and reporter for Realmadrid TV. I cover one of the world's most successful football clubs for its millions of fans worldwide, in both English and Spanish.
As well as presenting live news bulletins ahead of big games, I produce and host a weekly round-up called Realmadrid Life.
Who I work alongside and where I sit in the overall production
We're a small team. The senior editor oversees the overall production of the show. The director oversees the post-production. I cover the games and other content, conducting interviews, translating them, filming links to camera and editing a rough draft of the programme before it's sent to post-production.
"We're a multitasking team and I'm particularly proud of how much content we produce."

– Rhiannon Jones
What my typical week includes
A typical week producing Realmadrid Life starts off with a meeting with my senior editor and director to decide content and running order.
If Real Madrid are playing away, I travel with the team. If they're playing at home, most of the filming takes place at Real Madrid's stadium, the Bernabeu, or their training ground, Real Madrid City.
The general format includes a preview of the football games that week. I cover the run-up to the clash, filming press conferences, recording links, interviewing journalists and fans, and translating them. I then report on the match pitch side and interview the players after the game.
The show also includes all the latest news from Real Madrid's youth academy and basketball teams, and any other special event involving the club, such as the visit of UN Secretary General Ban Ki-Moon or boy band One Direction.
I'm particularly proud of...
We're a multitasking team and I'm particularly proud of how much content we produce given that there are only three broadcast journalists on the international service (English channel). We're all bilingual and between us we translate live press conferences and player interviews. We produce, edit, voice and present news bulletins, a football talk show, a match preview show, and Realmadrid Life, which I present in English and Spanish.
Something I learned that I'll take on from this job to the next
Working under pressure at big games, recording live links to camera in front of huge crowds with deafening background noise, with unpredictable interruptions (usually from football fans)... not only in English, but then again in Spanish.
The programme I'd love to work on
Anything that involves current affairs, sport or travel. I love a challenge. Once I feel I've stopped learning or feel I'm no longer being pushed, it's time to move on.