Phil McGarvey: assistant producer
Phil McGarvey is an assistant producer at Radio 2, working across three programmes - Graham Norton, Vanessa Feltz and The Radio 2 Arts Show. In his seven years there he's worked with many of the station's diverse talent roster including Chris Evans, Steve Wright, Simon Mayo, Janice Long, Elaine Paige, Ed Stewart, Sarah Kennedy and Aled Jones.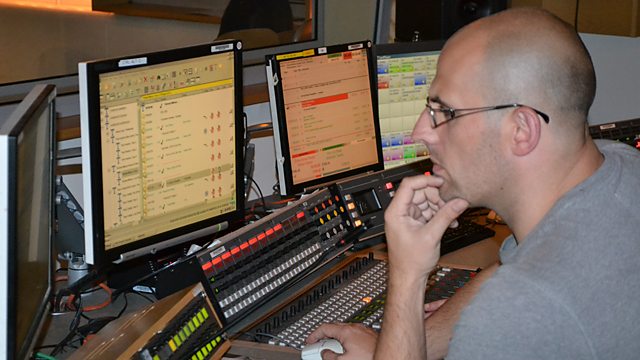 What are your key responsibilities?
They vary from programme to programme. On Graham's show the bulk of my work is booking and dealing with all aspects of the show's guests. With Vanessa I produce the show Thursdays and Fridays, and on the Arts Show I research and set up one of the interview slots, but also chip in with guest booking, feature ideas and studio production.
What was your first job in radio and how did you get it?
I was a programme assistant for a youth radio station in the Midlands. We recruited and trained local school kids in all aspects of radio and helped them stage their own 28 day broadcasts in our mobile radio truck. After a couple of years there I managed to get weekend work as a broadcast assistant on Ed Stewart's Radio 2 show from Pebble Mill Studios.
How long did it take you from there to where you are now?
That first job was in 2000, so 12 years. After working on Ed's show for about a year I was offered a contract working across all Radio 2's output from Pebble Mill, and eventually transferred down to work from the station's main base in London. After 18 months I went off to work in commercial radio for a few years, and then came back to Radio 2 in 2009.
Was there a formative person or programme which made you want to work in radio?
I grew up listening to Radio 1 and loved people like Simon Mayo, Steve Wright and Chris Evans, all of whom I've been privileged enough to go on to work with.
What is your favourite radio programme at the moment?
I'm loving Dave Pearce's Dance Years on Radio 2 - listening to it immediately transports me back to my youth. And Dave plays some amazing songs that I never thought I'd hear on the station, like Oceanic's Insanity.
"Presenters will respect you more if you have the courage of your convictions." – Phil McGarvey
Has there been a moment where you've thought, "I can't believe I get paid to do this"?
There have been a few occasions, but there can't be any better than when I was a couple of rows behind the royal family watching the Jubilee Concert having worked on one of Radio 2's programmes earlier in the day. Walking around backstage with royal guards, pop megastars and American news anchors, all mingling together in the catering tent, was pretty surreal.
What's been the proudest or most memorable moment of your career so far?
I think my proudest moment was when my first documentary went out on Radio 2. It was amazing to think people all across the world could be listening to something I'd made. The most memorable moment had to be when Chris Evans put me on air during my last show working with him.
Most useful skill you've developed?
Audio editing. Being able to shape and control your own content is key for me.
Hardest lesson learnt?
When someone's doing their first UK interview in over 20 years and they're only here for one day, for God's sake back the interview up as soon as you get back to the office!
What do you use to keep up to date on the industry?
I follow a lot of radio news sites likes Radio Today, Media UK and Media Guardian, as well as a number of people within the industry on Twitter. I also listen to a number of industry podcasts, the pick of which is The Radio Academy's in my opinion.
Anything you know now that you wished you knew then?
Presenters will respect you more if you have the courage of your convictions.
Who has taught/ inspired you the most?
Working with Chris Evans was possibly the most intense, thrilling, nerve-racking and personally satisfying time I've enjoyed in radio. That show eats up content and Chris has very high standards, as you'd expect from a broadcaster of his calibre, but I enjoyed every single minute of it and he was a joy to work for.
I've also been fantastically taught and encouraged by producers Malcolm Prince, Ken Phillips and Ally Lang.
What three tips would you give someone wanting to do your job?
- Enthusiasm and a willingness to learn goes a long way – volunteer to help out wherever and whenever you can, and don't be scared to ask questions.
- Complacency is the enemy - don't shy away from putting yourself forward for things that scare you. They're often the things that are the most rewarding.
- Organisation, research and forward planning are essential for a good AP.
What are you up to next?
I'm producing another edition of Annie Nightingale's Eternal Jukebox, a format Annie and I developed together that's run on several Bank Holidays on Radio 2, and before that I'll be back at the Edinburgh Fringe with The Radio 2 Arts Show in early August.