I made... Sound of 2013
Producer Kate Holder tells about her role as producer for BBC Sound of 2013, the BBC's annual list of the most exciting new music acts for the coming year.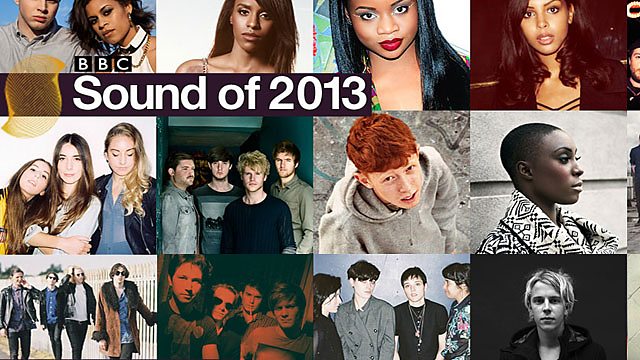 This is what I did
I coordinated, compiled and delivered the whole project. This included everything from selecting the pundits and setting up/counting the all-important vote, to organising film shoots and live sessions, recording and editing the podcast and convincing producers/editors to cover the project in their output!
Who I worked alongside and where I sat in the overall production
As the project has been running for over ten years now, exposure and anticipation for it has grown hugely both inside and outside the BBC. So although I was based in Arts & Entertainment News, who officially run the Sound Of… project, over the three month attachment I worked with colleagues from interactive, Red Button, all the BBC music radio networks, Front Row and Woman's Hour on Radio 4, BBC Breakfast, 5live and World Service, freelance camera crews and studios, the artists involved and their representatives, and of course our fantastic pundits (selected from influential music media from blogs to print magazines) – all to secure as much coverage as possible for the project.
"Looking after a project that gives emerging artists well-deserved wider exposure makes me extremely proud."

– Kate Holder
What my typical day involved
As in many production jobs, there wasn't really a 'typical' day. At the start of the project when I was setting up the vote and the pundit panel, I was sending a lot of emails and making a lot of phone calls for most of the day. After a lot of counting and Excel spreadsheet macros, I knew which acts were on the longlist (top 15) and the top five. Then it was all about setting up film shoots and interviews for various outlets and coordinating coverage with deadlines looming.
A moment I'm particularly proud of
Looking after a project that gives emerging artists well-deserved wider exposure makes me extremely proud. Hearing Huw Stephens announce the winners – American sisters Haim – on Radio 1 was a lovely moment and a great relief that I didn't have to keep it secret anymore! Switching over to Radio 4 and hearing Evan Davis talk about the Sound of 2013 on the Today programme and then a great piece on Woman's Hour was amazing too – I knew my mum would be listening to those! But I have to mention the Angel Haze video shoot I organised in New York – after a lot of emails and negotiating, a brilliant video producer, two legendary locations and a super talented rapper made for a great interview/live performance video. Angel herself tweeted it to her thousands of followers too. I felt very proud to be at the helm of all the people involved in that.
Something I learned that I'll take on from this production to the next
If you have an idea you're really passionate about – go for it. I really wanted to make more of the longlist announcement this year, so I persuaded my bosses to give me a two hour programme slot on Radio 1 to promote it; I was determined to have a dedicated audio download to go with it too. Even though I spent a few late nights editing, it was definitely worth it as it increased exposure for the project in a way that hadn't been done before. Also, seize every opportunity – just after the winner announcement I was working at the Eurosonic new music conference in the Netherlands (where new bands play to an international, mostly industry crowd), so I arranged with the organisers to take the Sound of 2013 red button programme along and do a screening at the conference.
My biggest surprise
This wasn't really a surprise, but pretty much everyone I dealt with, from pundits to production teams, was really friendly and willing to help out. I was expecting to give a harder sell, but I really believe that if you're friendly, honest and clear about what you want to achieve and can point out how it will benefit whoever you're asking, your passion for your project should hopefully be contagious!
The programme I'd kill to work on
Later with Jools Holland. I'm a radio producer in my regular job at Radio 1 and 1Xtra, but I'd love to see what TV is really like: being a huge live music fan I can't think of a better programme than one featuring loads of legendary performances.