Young, gifted, black and at the BBC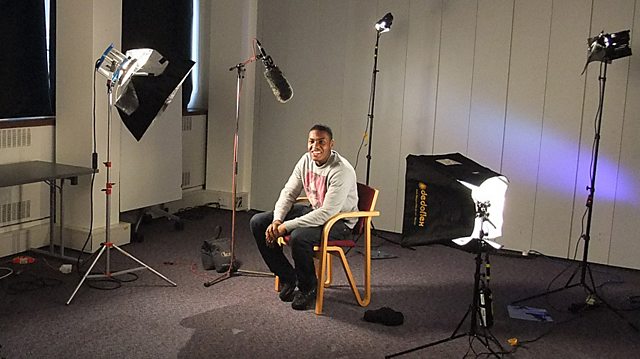 "We're always keen to give black and ethnic minority youngsters an opportunity to come into the BBC and see what it's all about," says Winston Phillips, chair of the BBC's Black and Asian forum.
He's speaking at an Academy event at BBC Elstree Studios for 14 young people who were recently recognised at the Young Gifted and Black Awards ceremony in Walthamstow.
The awards recognise talented young people who are doing well in their studies and seek to inspire them to "go as far as they can go", and today's event is being held both as a reward for the students and a chance for them to see what life is like at the BBC.
"Traditionally, black and minority ethnic groups [BMEs] might not see the BBC as a potential place of work," says Winston. "By bringing them in and engaging with them we hope to help them see this as a possible place of work sometime in the future."
After his introduction to the students, who come from a number of schools in Hackney and Walthamstow, it's time for a tour from BBC Studios and Post Production of some of their studios at Elstree.
This includes a look at the Strictly Come Dancing studio, which moved to Elstree's George Lucas stage from BBC Television Centre this year. The huge hall has been totally transformed into the glitzy, glitter covered set that viewers know and love from the Saturday night series. Brucey may be elsewhere but the students still get a sense of the scale and glamour of a prime time Saturday night production.
Back at the Academy's training rooms, there's a chance for each student to record a professionally lit and filmed piece to camera.
Each of the students has prepared their own 'passion piece', where they speak about something they love for one minute. The subjects are varied: one student has been getting into journalism by writing for various publications while still at college; another has channelled his need to be the class comedian into a passion for performance.
The day ends with a visit from Academy talent exec Simon Wright and three BBC Production Trainees from BME backgrounds, who speak about their experience of breaking into the industry.
One speaker is Brian Birigwa, who gives an engaging and honest account of his route into production.
As a young black man from a sometimes violent urban area, the BBC wasn't the first company on he thought to apply to when thinking about getting into broadcasting. But, while applying to the Production Talent Pool after being rejected by another broadcaster, he was heartened to see questions in the application about the BBC's relationship to ethnic minorities and whether it was doing enough to reach out in these areas.
While waiting to hear back, he managed to land work as a runner on a prime time drama thanks to being part of the SEO Creative Access Programme. He says the hours were long, the work was tough and the pay was low, but: "because I was passionate about what I was doing, I didn't mind struggling".
Then he got accepted into the Production Talent Pool – something that pleased him and his African family immensely.
As Brian says, the PTP is no guarantee of work; rather it means that you are part of a pool of runners that could be recruited to work on productions across the corporation. Thanks to making a good first impression on someone he worked with ("first impressions can get you really far") and the recommendation of previous team members, he managed to land himself a variety of roles.
He reckons another secret to his success was his easy going nature: "I never allowed myself to get into any politics that might be on a production, I made a point of getting along with everyone," he explains.
Brian was then chosen as one of the Production Talent Pool members to make it onto the Production Trainee Scheme, the Academy's one year fast-track traineeship for the programme makers and industry leaders of the future.
It seems the key thing that made it happen for Brian – and in such a relatively short space of time - was dedication.
"I was one of those kids who had loads of potential but I was lazy; because of that I didn't reach the goals I was trying to reach," he explains.
"It took me a year to get here once I really put my mind to it. That meant grinding, going to lots of events, not having any money, talking to so many people. It meant doing a lot of things I wouldn't normally do, and I did them because I want to be successful."
With the rest of his year on the PTS ahead of him and placements on Holby City and EastEnders already under his belt, he's certainly on the right track.