Introducing the Production and Production Coordinator Apprenticeships
The BBC Academy's production apprenticeships are a great way of getting your foot in the door of broadcasting. You don't need a degree to apply and you'll get a recognised national qualification as well as high quality industry experience.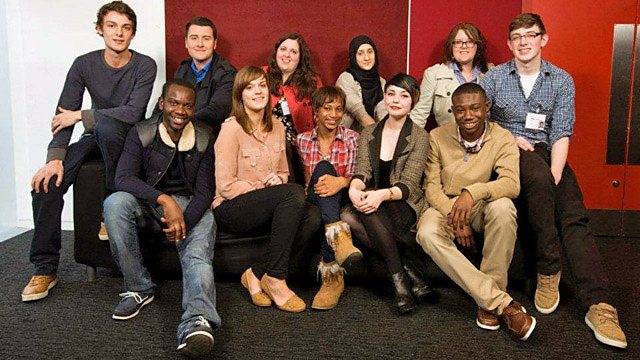 The BBC Academy's production apprenticeships are a great way of getting your foot in the door of broadcasting. You don't need a degree to apply and you'll get a recognised national qualification as well as high quality industry experience.
Media qualifications or previous work experience are helpful, but not essential. It's more important that you can demonstrate a genuine passion for the media and a commitment to completing the apprenticeship.
We're looking for enthusiastic and hardworking team players with a positive, 'can-do' attitude. Apprentices also need to be flexible and prepared to work some unsocial hours.
There are two different apprenticeships, which offer an introduction to different aspects of television production. The Production Apprenticeship is focused on the creating content for television, radio and online, while the Production Coordinator Apprenticeship looks at the behind-the-scenes organisation that makes it happen.
Production Apprenticeship
The Production Apprenticeship is for people who would like to go into the creative side of media, have good writing skills and are full of great ideas. It covers the end-to-end processes that go into creating content, such as research, scripting, filming, editing and supporting content makers.
The apprenticeship lasts for one year and candidates complete high quality work placements with the BBC at the same time as studying towards a Level 3 Apprenticeship in Creative and Digital Media.
Work experience placements might be as a runner, broadcast assistant, editing assistant or junior researcher and apprentices could find themselves fetching props, looking after guests, working a camera or helping to edit footage. Modules include health and safety, presenting ideas and industry awareness.
Production Coordinator Apprenticeship
The Production Coordinator Apprenticeship would suit those who are interested in the organisational and administrative side of radio and television production. Production coordinators are part of the production management team, which is mainly office based although there are times when you could work on location and take care of the budgeting, scheduling and planning for a production.
Production coordinators do the administrative work that keeps a programme running smoothly. They are responsible for the logistics of a production, such as booking rooms and travel, carrying out health and safety assessments, ensuring people get paid, clearing music and footage for use, timing shows and looking after the post-production paperwork.
To be a production coordinator you need to be highly organised with great communication skills, be able to work to tight deadlines and willing to problem solve when things go wrong.
The Production Coordinator Apprenticeship lasts for 15 months and leads to a Level 4 Advanced Apprenticeship in Production Coordination. It also includes work placements, which might be as a production management assistant, broadcast assistant or production coordinator. Training includes production budgeting, artists' contracts, copyright and managing the logistics for cast and crew on location.
Making it happen
The BBC Academy is working with Westminster Kingsway College to run the apprentice scheme. If you become an apprentice, you'll be based in London at the Academy and the college for a month's training before being assigned to a production team for a four month work placement in either London or Salford.
There are three work placements on the Production Apprenticeship and four on the Production Coordinator Apprenticeship. Previous apprentices have had the opportunity to work on well-known programmes such as EastEnders, The One Show, Luther, Rogue Traders and Holby City.
During the apprenticeship you could be working on drama, entertainment, factual, radio or TV comedy or post production. If you are accepted for an apprenticeship you'll be asked which areas you'd prefer to work in, but are not guaranteed to get your choices.
You'll be assessed on the job, as well as completing projects and academic modules. You will have a manager who will meet you regularly and you'll be supported throughout the apprenticeship by a mentor from the BBC.
Although we can't guarantee you a job afterwards, by the end of the apprenticeship you will have developed the skills and the experience to work in a number of positions within the media industry.
To apply for one of the apprenticeships you need to be over 18 by 31 August and have a grade C or above in maths and English at GCSE, good computer skills and an interest in the media.
If you have AS or A-levels, a BTEC Nationals or NVQ3 you are still eligible for an apprenticeship, but if you already have a degree, a further education qualification or more than 18 months experience in production, this scheme is not open to you. Instead you could apply for the Production Talent Pool.