Teaching in three dimensions
As experiments like the Strictly Come Dancing 3D final proved, the art of taking television into the third dimension is becoming more and more accessible. The right training is just the thing to help make it happen, says the BBC Academy's Mark Jacobs.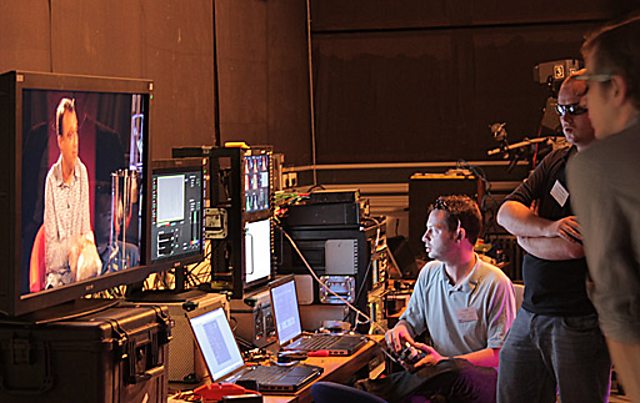 With 3D being built into a growing number of new televisions, there seems little doubt that the set manufacturers will continue to encourage this sector of the industry to grow.
Acquisition technology is also improving, with twin camera systems becoming increasingly sophisticated and rigs lighter and more affordable.
Good 3D certainly isn't easy to achieve, however. Technically speaking, there are issues of alignment, convergence and inter-axial to adjust, among many others.
Detailed storyboarding is a must in order to achieve the kind of 3D required for each shot
Then there are the logistical challenges: filming with 3D rigs can take much longer than with more conventional ones. Detailed storyboarding is a must in order to achieve the kind of 3D required for each shot, and post-production will often take twice as long as usual.
Factor in the increased expense of the technology required and it's clear that making the leap into three dimensions isn't something to approach lightly.
To use the new kit effectively requires training. Thankfully, there are courses now being offered by both academic institutions and the broadcast industry.
Some specialise in particular cameras, others in specific crew roles. The BBC Academy offers a basic introduction to all the skills required to make a 3D production and the opportunity for practical experience in the studio at the BBC's training centre at Wood Norton.
A sell-out when it launched last year, the course features guest lecturers presenting their own experience from the field. Leading stereographer Adam Sculthorp and editor/post supervisor Dave Wigram provide guidance and advice, and support also comes from a team of Academy technicians and training staff.
The next course runs from 29 February through to 1 March 2012 and is supported by the latest equipment from the rental houses and post-production companies.
But, thanks to the increasing consumer take up of 3D TV sets of all shapes and sizes, there are now courses out there for all levels of expertise. That's whether you're a complete beginner looking to find out the difference between a mirror rig and a side-by-side or a seasoned pro keen to hone a particular aspect of technique.
If you want to make the most of the creative potential offered by this growing format, it should be time well spent.