Free training for best newcomer at Student Radio Awards 2012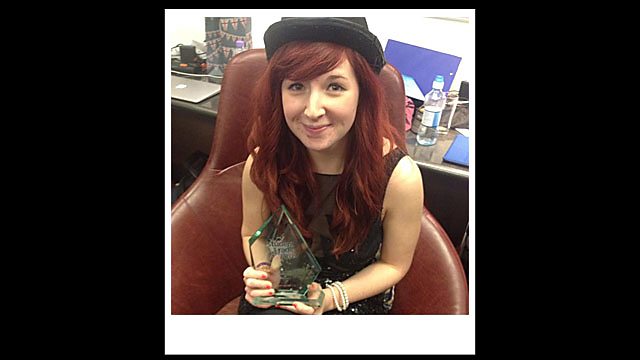 Abbie McCarthy is set to receive free training from the BBC Academy after winning the prestigious Best Newcomer trophy at this year's Student Radio Awards.
The recent graduate who only began broadcasting in her final year of university was presented with the gong by Paul Buller from the Academy's College of Production, which sponsored the award.
Abbie received the prize for her work at RaW 1251AM, the University of Warwick radio station where she presented three programmes a week including the breakfast show and a live music session.
She's now looking to break into the industry and extend her production skills - something she hopes her free training will help with.
"It was amazing to win the award - a total surprise," she told the Academy. "I'm not sure yet why I won, but for me good radio is all about having a close connection with the listeners. Bringing your own personality to the show is really important."
More than 700 people attended the London event hosted by BBC Radio 1's Nick Grimshaw and Capital Breakfast's Dave Berry, with University Radio Nottingham scooping best station for the third year running. Radio 1 DJ Annie Mac was on hand in her role as chair of the Student Radio Awards.
"I met Annie at the event," said Abbie. "She asked if she should be worried for her job as I'm known as Abbie Mac… I said 'I don't think so', but you never know - you can dream, can't you."
Paul Buller, editor of the College of Production website, congratulated Abbie, remarking that she had done well to distinguish herself against very tough competition. "The College of Production trains some of the very best in the business and that's why we are especially pleased to sponsor the Student Radio Association's prestigious Best Newcomer awards," he said.
"We were honoured to be at this event with the next generation of radio broadcasters, and hope that it marks the start of some close collaboration with the SRA over the coming year."
The Best Newcomer winners in full: