Extend 2012 takes Kris to Africa for world's biggest assembly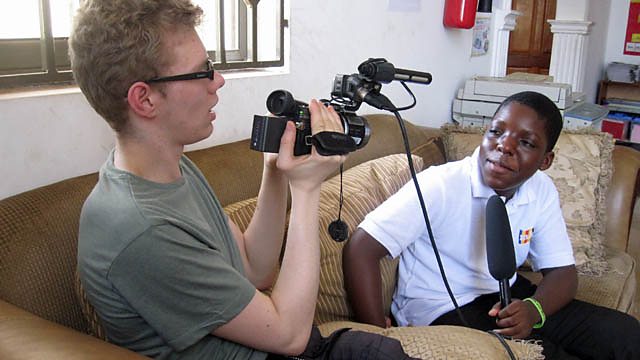 As answerphone messages from your boss go, "I just wondered if you wanted to go to Ghana…" ranks up there as one of the more unusual. But it's how researcher Kris Bramwell first heard that he was going to spend five days in West Africa working on the 'World's Biggest Assembly' project.
Produced by the British Council and BBC World Class - where Kris currently works thanks to a BBC Extend placement - the project brought together schools from around the world to all do the same assembly on the same day.
Kris's job was to support the BBC World Service in doing a report from the Multi Kids Academy in the Ghanaian capital of Accra, and also to make a few films of his own for the World Class website. Despite the 30 degree heat, he made friends with the locals, grew attached to the kids and helped ensure everything ran without a hitch.
It wasn't quite what I was expecting but I thought 'let's embrace it and see where it takes me'. It took me to Ghana.

– Kris Bramwell, researcher and Extendee
Near the end of his stay he even got asked to speak in an assembly by the head of the school - an inclusive institution which mixes pupils with learning difficulties and physical disabilities with a more mainstream intake. Kris qualified for Extend, the Academy's work placement scheme for people with disabilities, as he has a mild case of cerebral palsy. It meant his message to the kids was a personal one. "My condition hasn't held me back," he assured his audience.
But Kris hasn't always been comfortable talking about himself as someone with a disability. In fact his fear that it would define who he is meant he thought long and hard about whether to even apply to Extend in the first place.
"It's the first disability scheme I've ever gone for," he explains. "I've spent my life proving to people that I am no different from them and I can do what they can do. Applying to a disability scheme is admitting you are different to everybody else, so it goes against the grain a little bit.
"But the people on my journalism course and my tutors said I should swallow my pride and go for it. I did, and now I'm lucky enough to have a job at the BBC."
Kris found out about the scheme through the BBC Careers website while studying for a postgraduate diploma in broadcast journalism at the London College of Communication. He applied for the post at World Olympic Dreams and school-twinning project BBC World Class – both based in the BBC's London 2012 department – over his Easter holidays; was interviewed at end of June; and four days after the course finished he was offered the job.
For someone trained in radio and newspaper journalism, the online and video mix offered by his researcher post was something new. But he put his head down and learnt the new skills required, even becoming an unofficial BBC ambassador to the British Council for the project.
"It isn't a straight journalism role - it's about more things than I ever imagined it being," he says. "I was lured by London 2012 and the Olympics, as I want to go into sport, but there was this whole other side which involved schools. It wasn't quite what I was expecting but I thought 'let's embrace it and see where it takes me'. It took me to Ghana."
Kris's job at World Class ends in August, when he'll be on the lookout for other opportunities. As well as broadening his skillset and getting him a job in the media, he says being on the scheme has also made him change his views about acknowledging disability. So much so, he's got involved with BBC Ability, the forum for staff with disabilities, and spent time talking about Extend at disabled recruitment events around the country. It's something he enjoys: boosting people's confidence and encouraging them to try Extend and other schemes like it.
"I tell them: 'just go for it: let your disability open the door to a job, but let you and your skills walk through it',"he says. "No one mentions my disability at work; I'm there to do a job. Of course, people will help you with your difficulties if you have any, because you are on the Extend scheme – they'll understand and empathise with whatever you've got to deal with. But I always remember to make the most of the chance I've been given."