Journalism Trainee Scheme welcomes class of 2012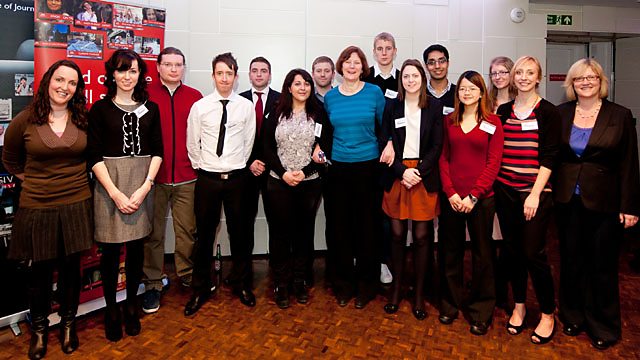 There's a busy year ahead for the BBC Journalism Trainee Scheme's latest recruits, who met each other for the first time on Wednesday at the JTS induction day.
Aimed at inexperienced journalists who are good writers with a nose for a story, the JTS was set up in 2007 specifically to target people from a wide range of backgrounds and those who may not have thought the broadcast media was for them.
Its 12 newest trainees had to make their mark amid thousands of applicants to get past the initial stage of the process, and then stand out during a rigorous assessment day. For the next 12 months they will learn on the job in BBC placements across the UK.
Speaking at the evening reception, director of BBC News Helen Boaden congratulated the new trainees on their success. "You will get impeccable training here," she told the gathered crowd. "You will learn to hone and trust your judgment. You will learn to test yourselves and test others. And I hope you will get the best training we can possibly give you in a very fast-moving world."
Jasmine Coleman was one of the trainees listening. With some experience of print journalism under her belt, she is keen to break out into radio and TV and reckons the JTS is "the ultimate" in terms of training and opportunities.
Like all trainees, she will move around the country during her year at the BBC, learning the ropes in varied media. When the scheme proper begins on 5 March, she will first get to grips with the fast-moving world of online news in London, before transferring to Salford for her initiation into the world of radio broadcasting.
I've wanted to be a journalist for years. I want to do something challenging where I'm not stuck behind a desk the whole time

– Tom Kavanagh, journalism trainee
"I was delighted to get on the scheme," she said. "The group is a good size - it's small enough that you can speak to everybody, and they all seem really nice. But at the same time there's quite a few of us so we have lots of different interests."
Her fellow trainee Tom Kavanagh, who graduated two years ago and currently works as an analyst in the City, said he is "totally ready" for the change:
"I've wanted to be a journalist for years. I want to do something challenging where I'm not stuck behind a desk the whole time."
Several graduates from previous years were in the audience at Television Centre, mingling with senior News figures from across the corporation and staff from the BBC College of Journalism who run the scheme.
Asked for his top tips for this year's intake, 2010 graduate Noel Titheradge, now a broadcast journalist at BBC London, reckoned they should make the most of their licence to "make mistakes and ask a lot of questions".
Laura MacDonald, now of BBC News School Report, reiterated the advice of JTS director Claire Prosser: "Don't be shy. Take every opportunity: whenever you get the chance to do something, jump at it."
Both were pleased they'd gone through the at times testing but always interesting process.
"You get the chance to do online, radio and television," said Laura. "I really felt I'd covered so much ground in just a year."
See the About the BBC blog for more on the induction day, and the Journalism Trainee Scheme site for further information on the scheme.