Fast Train North: storylining and creating characters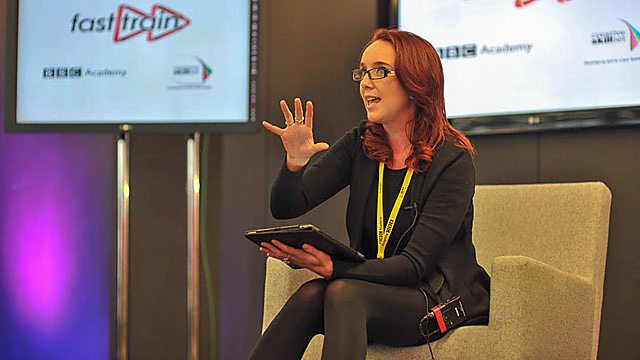 This is a report from Fast Train North, the free training event for freelancers from the BBC Academy and Creative Skillset. It took place on 20 November at MediaCityUK in Salford, where more than 300 people attended 278 training sessions, masterclasses and one-to-ones with high profile industry figures and experts. For more on the day, see its Flickr page and the BBC College of Production website.
The idea of having full control over the destinies of the characters on Coronation Street, EastEnders and the rest is may a soap fan's dream. But what is life really like for the people who create the storylines for some of the UK's biggest soaps, and what does it take to get and keep such a coveted role?
One person with answers is Kate Oates, a professional storyliner who hosted an ITV-produced Masterclass at Fast Train North. Since beginning her career on Radio 4's The Archers ("radio is a really good place to start out in storytelling"), Kate has gone on to work as a storyliner on Emmerdale and currently oversees storylines and scripts on Coronation Street.
If you don't subvert their expectations, the audience will switch over

– Kate Oates, ITV
Storyliners are a vital link in a soap production chain that al includes producers, scriptwriters, and script editors. Working as part of a team, storyliners shape the various story arcs in the lives of the soap's cast of characters.
Storylining typically takes place many months in advance of the episode being filmed and broadcast, and involves intricately planning the key events and cliffhangers (called 'tags') that will keep an audience compelled to come back for more after every ad break and episode. The job often involves long hours, and planning meetings can last for days as the planning team debates what fates that will befall their characters.
According to Kate, the qualities required by a good storyteller range from having an empathy with others to the ability to pitch strong ideas in "sometimes raucous" meetings. We compiled some of her top tips on storylining, storytelling and creating characters in the list below:
A good story always comes from character. There may only be seven plots in the world but there are a million stories and they all come from being true to character. Think about the characters you are writing for: what are their backgrounds, who are their parents, what are their biographies?


Decide what your character wants - their journey or main goal. Then think about how they're going to get it and what obstacles you're going to put in their way. Consider how they're going to change at the end of this arc: what will they have learnt? How damaged will they be? How will it affect their future?


Empathy is key to being a good storyteller - you need to be able to think how other people will respond to different situations. Draw on your own life experiences to help make your stories less melodramatic and more genuinely moving. Real-life anecdotes can be used to make your writing more realistic


If you get stuck, try to define the basics of your story. Whose story is it? What's it about? You need to decide who you're focusing on in particular


Try not to be too linear in your thinking. If you don't subvert expectations, the audience will wonder off. Soap viewers are very educated; they know all the tricks. You can avoid being clichéd by being very strict with your own work. When starting out, you'll often be told to 'make it fresher'


Balance is key in storylines. You need to pay attention to how you build the drama, and make sure there's enough light and shade. Don't make it too frothy with too many comedy storylines, or too unrelentingly grim


All characters should have distinctive roles and voices. A good exercise is to cover up names on the side of a script and if you can't tell who is saying what you haven't given them a distinctive enough voice. It's also important to have a diverse set of characters who are a good cross-section of society


It helps to really love the shows you apply to work on. If you're trying to break onto a show, you really need to understand its tone and why it's unique. You're also probably going to be working long hours - so it's good to enjoy what you're doing.


Fast Train North was produced by the BBC Academy in partnership with Creative Skillset and in association with a range of industry partners including The University of Salford, ITV, Bectu, Pact,DV Talent, Dock 10, Sound Women, Heslington Studios, Screenhouse, UKCES, Radio Independents Group, Indieclub.tv, the Farm Group, IABM, Puma Events and the Indie Training Fund.