Expert Women: YouTube channel and database launched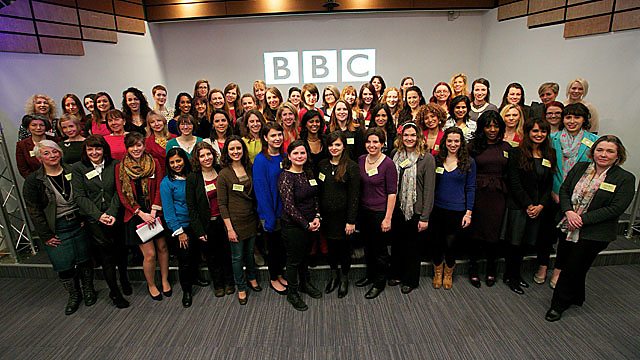 Acting BBC director-general Tim Davie has launched a valuable new resource for programme makers looking for female specialist contributors: the BBC Expert Women database and YouTube channel.
The database contains details of the 60 women who have so far received training via BBC Academy Expert Women Days, a series of free events designed to address the lack of on-air female representation in certain subject areas. It also includes details of a further 120 women who showed promise in their applications.
The YouTube channel features videos of successful Expert Women trainees presenting to camera on one of their specialist subjects. Originally filmed as audition tapes for one of the events, the short clips have now been compiled into an easily accessible database of female experts that is sorted into their broad subject areas.
The BBC Academy and BBC North are also currently on the hunt for further female experts to take part in Expert Women's Day North
Tim Davie launched the database and channel on 18 March at the third Expert Women's Day event to be held at the BBC Academy's headquarters in London.
Here 60 women who had previously taken part in events in January and March had been invited back for an intensive day of advanced training designed to improve their on-air skills and teach them how to pitch ideas for programmes and features.
Keynote speakers on the day, which was supported by BBC Diversity and Creative Skillset, included historian and broadcaster Lucy Worsley and BBC Two controller Janice Hadlow. High profile commissioners and producers were also on hand to experience the newly-trained pitching prowess of the expert women, and stayed for networking drinks.
The BBC Academy and BBC North are also currently on the hunt for further female experts to take part in Expert Women's Day North – a free training event taking place at MediaCityUK in Salford on 1 May 2013.
The day is the culmination of a season of BBC North events designed to support the development of on-air talent and will help boost the representation of women in the media in particular areas of specialty. Aimed at women who want to take part in television and radio programmes that are made in the North of England, it follows on from the Expert Women's Day events held by the BBC Academy in London.
In line with previous days, it will offer an introduction to the media, including practical experiences in front of a camera and in a radio studio, as well as masterclasses with industry professionals and experienced programme makers.
The team are looking for women experts in the following subject areas: sport; politics, economics and business; Islam; science; gadgets and consumer tech; crime and security. Further information and application details are here on the BBC Academy website.
Many of the original 30 women trained by the BBC Academy in January have since appeared as contributors on or been commissioned by radio and TV programmes.
They include:
- Natalie Starkey, space scientist and cosmochemist, who appeared on a BBC Breakfast piece about the asteroid fly-by that was filmed in her lab. This also went out on Newsround, BBC World Service and Radio 4. She has subsequently appeared on the BBC News Channel, Horizon and Sky News, and has been interviewed by The Guardian and the Huffington Post.
- Charlotte Connelly, a curator at the Science Museum appeared on Radio 4's Last Word discussing the impact of Tingye Li's work on lasers. She also appeared BBC Two's The Genius of Invention as an in-studio expert guest discussing the development of the electric telegraph, and on BBC Radio Humberside as a contributor to the live Saturday morning show.
- Elizabeth Pearson, astrophysicist, appeared on the BBC News Channel discussing the meteor incident in Russia, and also featured on BBC Radio 5 Live and BBC Two. Following this she was asked to appear in Channel 4 documentary Meteor Strike: Fireball from Space.
- Alcohol and addiction expert Sally Marlow was commissioned by the Today programme to produce a report on alcohol addiction, which was then subsequently rebroadcast on the BBC World Service.
Gemma Allen, historian, has featured on Radio 4's Woman's Hour. Deborah Hallett, business expert, has appeared on Today and CNN; Tina Miller, a sociologist, has appeared on Woman's Hour; Alison Baily, a political analyst, appeared on BBC Radio Oxford and Katherine Woolf, a lecturer in medical Education, appeared on BBC World News show GMT.
If you work in the broadcast industry and would like a copy of the database, email expertwomen@bbc.co.uk.