Digital Bristol Week: Wednesday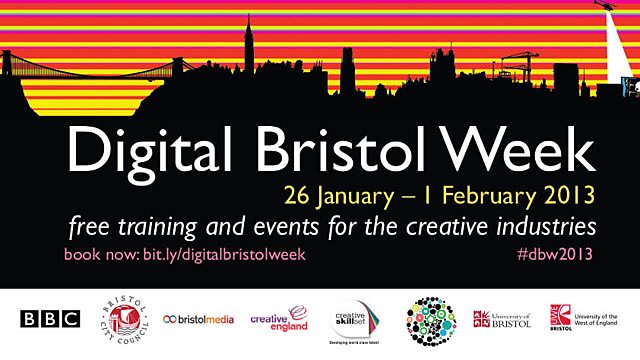 Digital Bristol Week is a week-long programme of events, workshops and panels for the creative industries that is being hosted and produced by the BBC Bristol Partnership.
Tickets some events are still available to book now, please check back for returns on sold out sessions. Panels and workshops take place at BBC Bristol unless otherwise stated. These events are for media professionals over the age of 18.
For specific ticket enquires please email Max.Greenhalgh@bbc.co.uk. For other days see the Digital Bristol Week homepage.
Wednesday 30 January 2013 - Broadcast and Beyond Day
Tickets for the Broadcast and Beyond conference are available for the morning session (09.30 – 12.45) and afternoon session (13.30 – 17.00).
Broadcast and Beyond Conference Part One at BBC Bristol
9.30 – 10.15 Breaking Out of the Screen
As technologies become cheaper and networks become more accessible, a wealth of digitally-driven experiences are being created which do not rely on cinema, TV or mobile phone screens. Ranging from magical installations to games which take place in the street, the work shares an aspiration to get people engaged and thinking differently about their surroundings.
Pervasive Media Studio director Clare Reddington will show a selection of cutting-edge projects produced in Bristol and around the world which all blend digital technologies with physical experiences to break out of the screen and transform the real world.
10.15 – 11.00 REACT Future Documentary
The overlap between broadcast and the internet is changing traditional documentary media. The TV screen - once the centre of home entertainment - has been joined by computers, phones and tablets, causing factual producers to look for new ways to engage audiences.
Producers from REACT will introduce this exciting opportunity to develop strategic partnerships with creative businesses and cultural organisations. It aims to strengthen and diversify collaborative research activities and increase the number of arts and humanities researchers actively engaged in the field of 'future documentary'.
11.15 – 12.45 i-Docs Lab Part One: key concepts for understanding i-docs
Interactive documentary experts Mandy Rose, Judith Aston and Sandra Gaudenzi unpack the mysteries of interactive documentaries: what are they, what is exciting about them and how do they relate to the documentary tradition?
Through analysis of a range of interactive projects, all of which place new logics of authorship and storytelling at their core, the session will provide participants with a set of conceptual tools to assist in the development of their own work.
Broadcast and Beyond Conference Part Two at BBC Bristol
13.30 – 15.00 i-Docs Lab Part Two: meet the producers of two success stories
Two approaches to interactive documentary from two leading proponents in the field: Max Whitby, CEO of Touchpress, and Patrick Uden, founder of Uden Media. Both have a distinguished track record of factual production within the BBC and both have branched out to run successful new media production companies. They will discuss their respective journeys to independence and showcase their innovative work.
15.15 – 16.00 Acting BBC Director General Tim Davie
16.15 – 17.00 BBC Earth Presentation
Discover how the commmercial arm of the BBC Natural History Unit is creating ground breaking projects in exhibition spaces, online and on just about every other device going.
Workshops at BBC Bristol
11.30 – 12.30 Social Media and Second Screen
This short taster version of ITF's one-day workshop offers tips on how to make the most of Facebook, YouTube, Twitter, blogs and second screens to maximise the impact of your production and engage your audience. It is led by BAFTA and RTS award-winning cross-platform producer and social media expert, Mike Flood Page (former editorial director of Illumina Digital). Indie Training Fund with support from Creative Skillset TV Skills Fund. BOOK
13.00 – 14.30 Beyond RADIO
A unique opportunity to discuss with BBC radio producers and executives how to push programmes beyond the radio. Attendees can engage in open discussion about what else listeners might want on key Radio 4 brands like Any Questions, The Food Programme, Ramblings and Costing the Earth.
BBC Radio 4 in Bristol makes programmes across drama, the arts, current affairs, food and farming and are developing innovative ideas for the future. They want you to be part of the debate. BOOK
13.00 – 14.00 Devising & Monetising Apps: developing TV brands
With the explosion of smartphone users, the apps market has grown from three billion downloaded in 2010 to 25 billion on Apple alone. In this short taster from ITF's full workshop Jon Davenport (head of digital at Hat Trick, makers of Fonejacker & Facejacker) will share his insights on developing these very successful apps. Indie Training Fund with support from Creative Skillset TV Skills Fund. BOOK
14.30 – 15.30 Social Media and Second Screen
See 11.30 session for details. BOOK
16.00 – 17.00 Devising & Monetising Apps: developing TV brands
See 13.00 session for details. BOOK
Technology Showcase at BBC Bristol
10.00 - 17.00 The Blue Room Live
The BBC's touring consumer technology and media showcase. Current consumer tech exhibits include: connected TV, emerging display technologies, glasses free 3D TV and new ways of video/photo capture.
BOOK OTHER DAYS: WEEKEND, MONDAY, TUESDAY, THURSDAY, FRIDAY
GO BACK TO THE DIGITAL BRISTOL WEEK HOMEPAGE
Digital Bristol Week is being produced by the BBC Academy and BBC Bristol in partnership with the University of the West of England, Creative Skillset, Bristol Media, Bristol City Council, Bristol University, Creative England and the Pervasive Media Studio.