Engaging audiences with digital content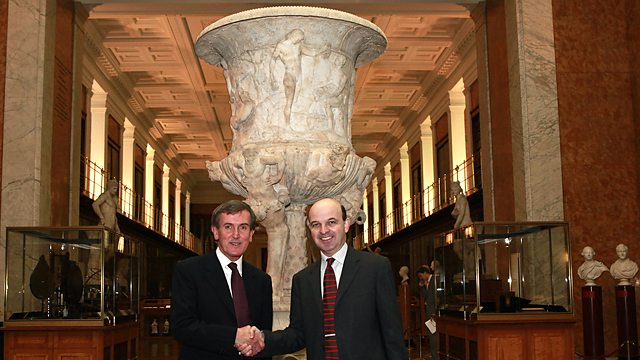 How can arts organisations create and engage new audiences using audio and audio-visual digital content?
Bill Thompson, Head of Partnership Development, BBC Archives is in the chair for the second seminar in the BBC Academy/Arts Council digital partnership 'Building Digital Capacity for the Arts', in which a host of experts, including Peter Salmon, Director BBC North, debate the subject and share their experiences.
Andrew Caspari, BBC Head of Speech Radio and Classical Music, Interactive, gives a fascinating insight into the partnership between the BBC and the British Museum. Pictured above are Neil MacGregor, Director of the British Museum, and the former BBC Radio 4 Controller Mark Damazer at the launch of A History of the World in 100 Objects - a highly successful example of how two public service bodies came together, in a unique partnership, to excite and engage new audiences across different digital platforms.
A History of the World in 100 Objects is a unique partnership - exciting and engaging new audiences across different digital platforms
Dominic Smith discusses how the Tyneside Cinema is using digital content to engage new audiences: the role of the artist; the importance of curation; the revenue model and future plans.
Mark Batey, video journalism trainer, BBC Academy Newcastle, talks about 'Creating Content': the importance of defining the story you want to tell (watch out for the swimming cows!), then working out how to tell it and the equipment you need.
Gez Casey, Literary Manager at Live Theatre, delivers a case study on www.beaplaywright.com which details the evolution of the 'Be a Playwright Project' from offline to online: the processes involved, how the project is managed, creating content and the business case.
The third seminar, on the creative exploitation of archives, will take place in London in October.