Apprenticeships and the Media: a renewed relationship?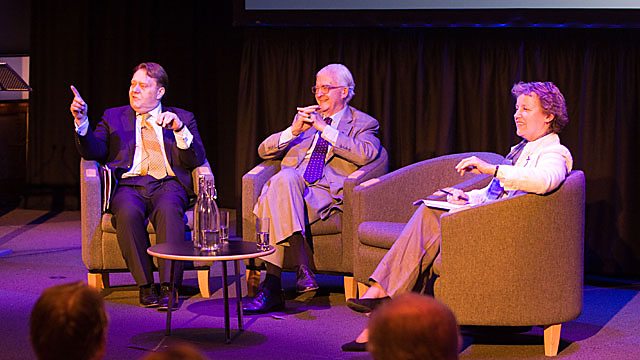 Could a new emphasis on apprenticeships aid the media in its search for new and diverse talent?
This was the question asked by the BBC Academy at its 'Apprenticeships and the Media Conference' held on 20 June 2012 at BBC New Broadcasting House in London.
Judging by the ensuing discussion – from speakers ranging from Minister for Skills John Hayes to the media apprentices themselves – the answer is a resounding 'yes'.
The conference was hosted by BBC chief operating officer Caroline Thomson who welcomed the audience to the event and introduced the day's first speaker, Dan Adamson, director of programmes at Twofour.
The Plymouth-based indie takes on two apprentices a year and so far this has been in non-programme-making areas. Dan is now looking at how he can bring apprentices into more creative production roles. "We know apprenticeships work for our business," he said. "Our job is to train, grow and keep this new generation of talent and give them the confidence and edge required by the industry."
"We're trying to bring about an industry that's more about what you know rather than who you know." – Anne Morrison, director, BBC Academy
His belief in the usefulness of media apprenticeships was echoed by Camilla Lewis, UK MD of Cineflix Productions, who said that taking on apprentices made "sharp business sense".
Fellow panellist Colin Campbell Austin explained how recruiting people from diverse backgrounds is vital to Channel 4's success: "We can't wait for people to come to us; we have to go out and get them."
BBC Vision Productions' Kate Phillips discussed the BBC Future Formats scheme which gives people the chance to spend six months at the BBC developing entertainment formats. "All we ask when they apply is that they love telly and have good ideas," she said.
BBC Bristol's James Wall gave an entertaining first-hand account of what it's like to actually be an apprentice. Then Lord Kenneth Baker took the stage to discuss VQ Day and the Edge Foundation. "Someone needs to change the whole attitude to technical education in this country," he told the crowd.
John Hayes MP was similarly unequivocal. The Minister of State for Further Education, Skills & Lifelong Learning stated that vocational training "is essential for our economy and the aspirations of our citizens". As a Strictly Come Dancing fan, he noted that the demonstrable public enthusiasm for seeing practical skills learnt on the show was not reflected in a similar enthusiasm for vocational qualifications in the UK's education system.
Professor Alison Wolf, who has been highly influential on current thinking around vocational training for young people, brought her academic perspective to the discussion when interviewed by the Today programme's Simon Jack.
Then BT director of education and skills, Andy Palmer, gave an insight into the company's high-profile apprenticeship schemes. His figures spoke for themselves: BT apprentices are 7.5% more productive than non-apprentices; are more likely to stay with the business; and 95% of them complete the schemes.
Caroline Thomson returned to deliver a speech outlining potential future apprenticeship schemes at the BBC, which currently employs 55 apprentices across the UK. There are plans for Level 5 Apprenticeships (degree level) for technologists and engineers, and then further traineeships up to Masters-level. Investigations into opening access to other areas with 'skills gaps' have resulted in a proposed Level 4 Apprenticeship qualification which would build on Creative Skillset's existing Level 3 qualification.
The plans are conditional on the success of a bid to the government's Employers' Ownership Pilot fund. If it comes to fruition, Thomson said the BBC will be able to offer to 'over-hire' apprentices on behalf of smaller companies in the broadcasting industry.
"Effectively, we would do the recruitment, pay the salaries, do the training, and also manage all the bureaucracy around running apprenticeships," she explained. "Then we'd offer them out to the industry on a paid placements basis – with companies only paying the pro rata salary for the duration of the time that they buy."
Industry buy-in would be key, she added – a critical mass of companies will need to support the approach in order to cover the BBC's costs.
The responsibility for these higher-level qualifications would be taken on by the BBC Academy, and Academy director Anne Morrison expanded on this theme when taking part in a panel discussion with Sky's director of future talent, Jo Fox, and Dinah Caine, CEO of Creative Skillset.
"The Academy is trying to bring about an industry that's more about what you know rather than who you know," Anne said. "We want to create pathways into the industry that are more transparent and visible. I see it as part of the BBC's pub service mission to use its infrastructure for benefit of the industry – and our apprenticeship plans are one of the ways we can do it."
Caroline Thomson ended the morning by reflecting on the consensus that seemed to have emerged from the "extraordinarily wide-ranging discussion": an agreement on what constitutes a good apprenticeship and that there are "good hard business reasons" for setting them up.
The day marked a "turning point" in the discussion, she said. And, with the tone and direction agreed upon, all that remained was for the industry to continue to step up to the challenge and seek out the "brightest and best from the broadest range of backgrounds".