Writing for the web
An overview of the basics of writing engaging news online, covering language, style, visual appeal - and how to avoid making mistakes.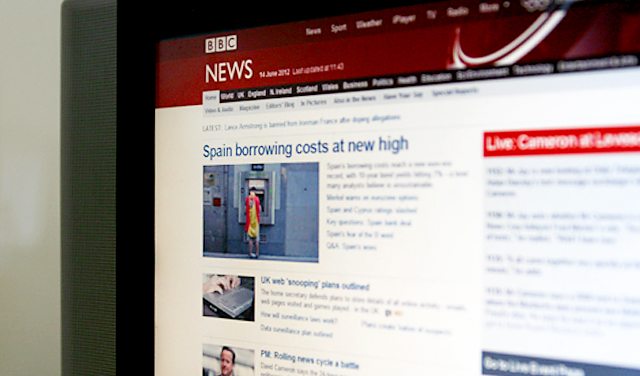 When writing for the web, tell the story upfront. For it to work across all possible platforms and devices, it needs to be told in essence in the first four paragraphs, around 70 words:
Make sure the crux of the story is in the introduction - not in paragraph four
Check that paragraphs are clear, balanced, provide context, and are effectively self-standing
Double-check that the headline matches the story.
Examples of good real headlines:
Usually have verbs: "Britain's top policeman resigns"
But not journalese: "Cave yields marsupial fossil haul"
Should not be ambiguous: "Queen sells pirate music to fans"
Do not need quote marks as well as attribution: "UK 'needs tax rise', report says" is incorrect.
And if you are going to get it wrong, do not do it in the headline…
None of these were picked up by a spell checker:
"Princess William's uncle Earl Spencer set to wed"
"Alistair McGowan takes on the role of Noel Howard"
"Smiling Berlusconi returns to pubic duties"
"Wales remembers Richard Taylor and Elizabeth Burton".
Minimise risk
The eye can skip missing words: "This is what I working for."
Or fail to spot duplication: "Comrades hail killed soldier killed in Afghanistan."
You might spell check copy as a matter of routine, but it is not always enough:
Check on paper
Get someone to second-check copy
As an added safeguard, read out loud.
Nail the summary
This is a single sentence that sells the story on the website's front page. It should expand on the headline; can reflect the story's intro; and should encapsulate what the story is about.
The summary should ideally have no clauses and stick to the present or future tense. It should also be self-contained so that it can transfer easily for use on other BBC outlets.
Headline: "Burglary at Ozzy Osbourne's home"
Summary: "A large amount of jewellery is stolen from the rock star Ozzy Osbourne's mansion while he and his wife are sleeping."
Strong intros
Avoid putting attribution first, angle second.
Write: "The United States is repositioning its forces in the Libya region as the West weighs potential intervention against Muammar Gaddafi, the defence department says."
Do not write: "The US defence department says it is repositioning its forces… Gaddafi."
Quote correctly
When a quote is embedded in a sentence, the comma comes after the quote marks:
Paul Newman enjoyed his inclusion on President Nixon's enemies list – "the highest single honour I have ever received", he said.
Where a whole sentence is quoted, the comma should be inside quotation marks:
"These attacks on the civilian population may amount to a crime against humanity," the Nato secretary general told the BBC.
Picture must match story
Most glaringly mismatched photos invite instant howls of protest from users - but can survive on web pages for hours, if not days. And remember: the wrong picture - just like the wrong words - can give rise to serious legal problems.
If you have any doubts about whether a picture could be libellous or crosses the threshold for taste and decency, refer up to your editor.
Captions need to be accurate, up to date, should add to the story, and must not be cut and pasted from the main copy. They should also be neither boring nor baffling.
Add extras to add interest
Subheadings (cross-heads) should be interesting/intriguing phrases that refer to something that is definitely in the copy below it - something that has not been subbed out
Quote boxes should sit higher on the page than the actual quote appears in the text
The promotion of stories requires strong images and text, but do not over sell
Poor links are frustrating for the user; if they do not work or take people to the wrong place. Test them out.
The BBC Academy offers face-to-face and online courses for BBC staff:
Elsewhere on the Web