The Revival of Local Journalism
Local TV, radio, newspaper and online journalists from around the country, along with representatives of the wider media industry, gathered at MediaCityUK on 25 June to discuss the challenges facing local journalism in a digital age. The event was hosted by BBC director of news and current affairs James Harding.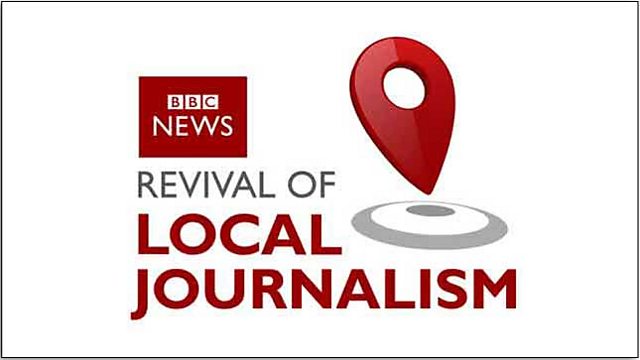 The Revival of Local Journalism conference #localjournalism was organised by the BBC with the support of the Society of Editors. Its aim was to take the pulse of local journalism today, explore how the industry will tackle the coming challenges and investigate where the digital compass is pointing.
You can see videos of the sessions on the BBC College of Journalism's YouTube channel.
Related blogs
James Harding
BBC director of news and current affairs James Harding, who hosted the day, said ahead of the event: "Our hope is that we can get people from across print and broadcasting, online, mobile and social media, local government and business to discuss what's happened to local journalism and, more interestingly, where we think it's going.
"Budgetary pressures have been brought to bear on regional newsrooms in recent years and there is a concern about the impact this is having on our society and our democracy. But is the pessimism overdone?
"From local radio to the nightly regional news on TV, we at the BBC see that nothing matters more to our audiences than what's happening where they live."
The event, held in Quay House, MediaCityUK, Salford, was invitation-only.
AGENDA
10:15 Registration and coffee
10:45 Welcome
Victoria Derbyshire, BBC Radio 5 live presenter, followed by Bob Satchwell, executive director of the Society of Editors
10:55 Opening address
James Harding, BBC director of news and current affairs
11:00 Nottingham: A day in the Life of Local News
Nick Higham, BBC correspondent
11:10 The State of UK Local Journalism: Thriving, Dying or Just About Surviving?
Michael Jermey, ITV director of news and current affairs
David Holdsworth, controller BBC English Regions
Neil Benson, editorial director, Trinity Mirror Regionals
Will Perrin, hyperlocal operator and head of Talkaboutlocal
Fiona Ryder, managing director, Mustard TV
David Coates, Newsquest regional managing director for Yorkshire and North-East
Chair: Victoria Derbyshire
12:10 Views From Inside the Sector
Ian Murray, editor of Southampton Echo and president of the Society of Editors
Jim Foulger, head of news and sport, Bauer Radio
Lucy West, editor, ITV Granada Reports
Dom Chambers, chairman, Community Media Association
Nigel Dacre, chief executive, Inclusive Digital - co-owner/director Notts TV and chair of the Local TV Network (LTVN)
Phyllis Stephen, founding editor, the Edinburgh Reporter
Ged Fitzgerald, chief executive, Liverpool City Council
Outside voice - Tom Hoskin, group media relations director, Tesco
Host: Louise Minchin, presenter, BBC Breakfast
13:00 Lunch break
14:00 How Can You Pay for Local Journalism?
Helen Goodman MP, shadow minister for culture, media and sport
Richard Coulter, editor and publisher, Filton Voice
Douglas White, head of policy, Carnegie Trust
Tim Dawson, vice-president, National Union of Journalists
Chair: Paul Bradshaw, reader in online journalism, Birmingham City University
14:50
Google
Peter Barron, head of communications, Europe and the Middle East
Twitter
Joanna Geary, head of news partnerships UK
15:30 Where's the Digital Compass Pointing?
Mark Woodward, group head of newspaper websites, Johnston Press
Simon Bucks, associate editor, Sky News
Steve Herrmann, editor, BBC News Online
Alison Gow, digital innovation editor, Trinity Mirror
Jasper Westaway, chief executive Borde.rs
Katharyn Geels, programme manager, Nesta
Chair: Lucy Meacock, presenter, ITV's Granada Reports
16:25 Final remarks and film
SPEAKER BIOGRAPHIES
Alison Gow
Alison is a journalist and blogger who has worked in the regional press for more than 20 years. A past editor of Wales on Sunday and the Daily Post, she is now editor, digital innovation with Trinity Mirror Regionals.
Joanna Geary
Joanna is head of UK news at Twitter. She is responsible for Twitter's relationships with UK news organisations, helping newsrooms to make the most of Twitter as a journalism tool. Prior to joining Twitter in 2013, Joanna was social and communities editor at the Guardian. She is also founder of Hacks/Hackers London.
Lucy West
Lucy is head of news, ITV News Granada Reports. Lucy returned to the North-West in March 2012, having been head of news for ITV Tyne Tees and Border. She began her broadcasting career at the BBC World Service, followed by BBC Radio 4 and Radio 5 live.
Douglas White
Douglas is the acting head of policy at the Carnegie UK Trust. He leads the Better Journalism and Digital Participation programmes, including the Neighbourhood News and Make Your Local News work initiatives. Douglas is a member of the Cabinet Office Digital Inclusion Stakeholder Forum.
Richard Coulter
In July 2011, Richard set up his own hyperlocal print magazine, Filtonvoice. Since then the team has established five publications, with more in the pipeline. Richard was employed in regional journalism for 19 years, latterly as assistant editor of the Bristol Evening Post.
Michael Jermey
Michael is ITV's director of news and current affairs. He also has responsibility for ITV's regions and nations services in the English regions, Wales, south of Scotland and Channel Islands. In September 2014 he led the introduction of more localised services on ITV in most English regions.
Helen Goodman
Helen has been shadow minister for culture, media and sport since October 2011. In October 2013, her portfolio expanded to cover the creative industries, arts, galleries and museums, and heritage. She is the MP for Bishop Auckland.
Phyllis Stephen
Following a career as a Scottish solicitor, Phyllis has worked in local radio and written for local newspapers. She is the founding editor of the Edinburgh Reporter.
Nigel Dacre
Nigel is chair of the Local TV Network (LTVN) - and a director of Notts TV. In 2007 he founded Inclusive Digital, which specialises in video production and website development.
Mark Woodward
Mark is group head of newspaper websites at UK regional publisher Johnston Press, where he has been instrumental in driving online audience growth and engagement.
Paul Bradshaw
Paul runs the MA in online journalism at Birmingham City University, and is a visiting professor at City University in London. He publishes the Online Journalism Blog and is founder of investigative journalism website HelpMeInvestigate.
Neil Benson
Neil Benson has 40 years' experience in the media, and since 2001 has been editorial director, regionals, at Trinity Mirror, where he has led many newsroom restructure programmes. He is a board member and former president of the Society of Editors and a member of the Editors Code committee.
Tim Dawson
Tim is vice-president of the National Union of Journalists in Britain and Ireland and has been a member of the national executive for 15 years. He is a freelance who writes a column for the Sunday Times, and another for the Times Education Supplement. He was a section editor on the Sunday Times for a decade. Tim also edits Newmodeljournalism.com.
William Perrin
William set up Talk About Local in 2009 to explore community-based digital local news. It delivered training in more than 200 deprived and isolated UK communities. Today Talk About Local provides consulting advice, support and training to international media clients. William was a prime mover behind the Communications White Paper in 2000 which created Ofcom. He is also a trustee of the Indigo Trust.
Elsewhere on the Web