#SocialMediaWhatsTrending
The BBC Academy's College of Journalism, Fusion and BBC North presented a major one-day social media conference on 29 October featuring top practitioners in journalism and wider content making. You can watch all 11 sessions by following the links to the College of Journalism's YouTube channel below: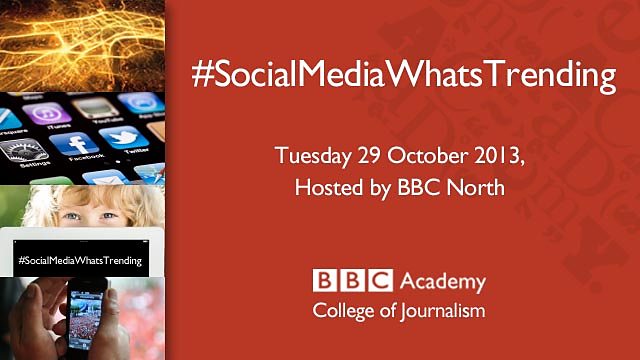 The #SocialMediaWhatsTrending conference at MediaCityUK in Salford on 29 October was aimed at aspiring and professional content makers, journalists and digital media producers. Sessions offered best practice case studies, top tips and cautionary tales, with speakers sharing expertise in making the storytelling process interactive, leveraging the social web for maximum reach, and how to innovate and offer more value with social content.
You can watch all 11 sessions (below) on the College of Journalism's YouTube channel:
Online privacy, freedom and security (in the era of transparency)
Editorial leadership, social media and breaking news
Why we all love a list - the power of curation and sharing
Flagship entertainment 'capturing the nation' - the battle for the biggest audience
Visualising radio - the new frontier
Keynote: Listen, Watch, Share and BBC Radio 1 Interactive Engagement
Investigative journalism and new technologies
Memes under the microscope - is there a formula for viral success?
Sport, social media and ROI with audiences
Reddit - the front page of the internet: New user behaviour and social media trends
Twitter: #bbcsocial
Charles Miller blogged about the event on the College of Journalism blog:
SocialMediaWhatsTrending - journalism's brave new world?
SocialMediaWhatsTrending - the old barriers are down
Note that the views expressed were not necessarily those of the BBC. Also, the content and conversation was designed to deal with more serious themes and may not be appropriate for some children.
Six sessions at #SocialMediaWhatsTrending were live-streamed in the UK on the Academy website, where you can find the full agenda.