Connecting Communities conference
The Connecting Communities conference in June 2012 brought together practitioners from across the media with a focus on how community journalism can survive in today's challenging environment and how the mainstream media can engage.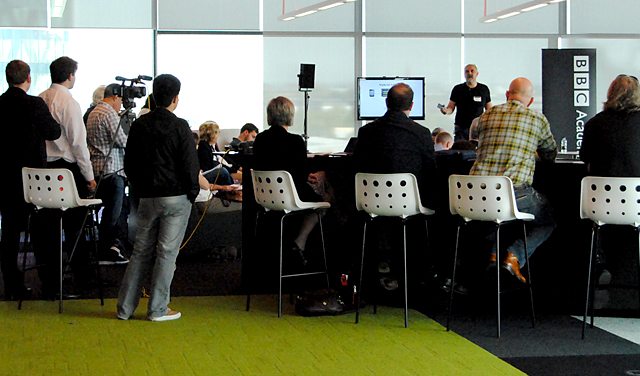 The Connecting Communities event, co-produced with the Paris-based user-generated content agency Citizenside, consisted of panel debates, keynote speeches, 10-minute presentations followed by 10 minutes of Q&As, and booths offering structured networking opportunities.
The focus of Connecting Communities, chaired by BBC Radio 5 live presenter Phil Williams, was community journalists from around the globe sharing their experiences.
Presentations included Paul Egglestone from the University of Central Lancashire 'on actual paper' that allows you to broadcast back to the publisher, and Ivo Burum from NT Mojo - a project created to give a voice to indigenous people in Australia.
Keynote addresses came from Jan Schaffer, executive director of J-Lab, the Institute for Interactive Journalism in the US, and Jon Kingsbury, programme director, creative economy, at Nesta.
Videos of the sessions are on the College of Journalism's YouTube site.
You can also watch videos of interviews with speakers and contributors on journalism student Will Buchanon's mimovi platform.
The College of Journalism offers face-to-face and online courses for BBC staff:
Social Media & Connected Journalism
BBC training is available to non-BBC staff on a commercial basis.
Elsewhere on the Web